Between the busy city center and the colorful quarter of Kröpeliner Tor Viertel, you can find Warmbad. Situated on Niklotstraße, you can find just about everything for a tipsy evening with friends. It is also the place to invite visiting parents, that are curious to see Rostock, without spending ginormous amounts of money. Why? You might ask. Its considerable selection of wines combined with its location right in the hip student quarter of Rostock makes it perfect for inquiring parents. In the summertime, you can lounge outdoors, beneath sprawling tree branches adorned with fairy light, until their aromatic hot chocolate with baileys can no longer keep you warm. If you are not a fan of hot drinks or wooden benches, you can also cozy up inside.
Their cozy sitting spaces are adorned with candles and surrounded by artworks made by local creative minds. If you and your companions can no longer fill the waiting time for their stunning cheese platters with talking, just grab one of their board games, from chess to Mensch-ärgere-Dich-Nicht, they do have it all. Apart from the cheese platter, which consists of a multitude of cheeses, fruit, and bacon-wrapped dates (and of course baguette), I recommend you their homemade aioli and their creamy tomato soup.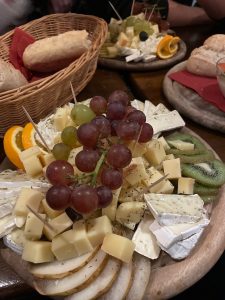 But now to the most important aspect.
You've entered the bar, adorned with students, seated yourself into the most coveted spot, right in front of their gigantic window filled to the brim with plants, and you have found their menu. It is perfect for my nosy friends and me to peek at the people passing by, often unknown faces, but sometimes acquaintances we haven't seen in a while.
But what to drink? They offer a large selection of wines, as well as driver's cocktails and Ukrainian vodka if you feel like drinking for a good cause. Their selection of hot drinks is only available until ten p.m., as the machine sadly needs to head to bed quite early. The rest of the bar is stacked to the ceiling with bottles and more bottles. Even some of their candelabras are old green wine bottles. You can try out their crazy concoctions, named after unicorns, or try out one of their classics. And even if the menu filled with drinks and snacks is not to your liking, they will fulfill just about every wish for you. For example, mixing drinks you cannot find on the menu or serving you dates without the bacon-wrapping, which is great for my plant-based companions.
Now, at the end of the night,  you have had a Kamikatze, and a Strawberry Daiquiri, so you are unable to drive the car you have parked in any of the nearby parking spots. But you needn't worry, just take a short sobering walk to Doberaner Platz which is one of the stations with the most connections to different directions in the city. Here you can find public transportation heading everywhere. However, Rostock is a city on the smaller side, so the next bus or train might take a while. And if it is only arriving in twenty minutes, I recommend you head back in and stay for another sixteen minutes.