"Life is like riding a bicycle. To keep your balance, you must keep moving." (Albert Einstein)
This quote by Albert Einstein hits the nail right on the head.
Cycling is a good physical activity to alleviate stress and useful to forget all every day's worries.
A day trip with a bike around the Warnow River (see map) can help to keep -or even regain your inner balance. The 25 miles (40 km) will show you several interesting parts in and out of Rostock. Cycling through the woods, past fields, along the waterfront and harbour is like a tasty Smoothie- a mixture of everything with a surprising effect.
There is actually no need for a certain starting point on this round trip but the "Holzhalbinsel" plots a nice centre. From there on you will pass many green arrows that guide you towards Warnemünde.
So pay attention while pedaling. The first 6 miles are noteworthy because you ride on a edge of contrasts. A glimpse to the right offers old grey industrial buildings (ger. "Plattenbau") whereas the left is dotted with flowers and green trees. But the last 3 miles to the Rostock port is across field paths along man-high rye and rape. A break here can be really relaxing if you are one of these nature lovers. An alternative for the steel and iron sympathizer is a stop at the Rostock port. Here you'll see pipelines with lengths to 400 -and diameters up to 32 feet. Just imagine how much oil or gas could run through. A bottle of rum or whisky from the Scandlines Bordershop can give your mind full scope.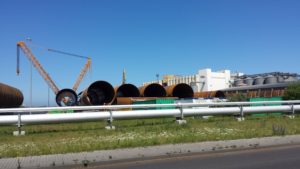 The next stage is along fields again although they are full of strawberrys. The landward wind will breeze the sweetness right into your nose. Before you turn into the woods you can stop at the local stall ("Stuthof") to buy fruits or vegetables (depending on season). If you are already tired at this point of your two-wheeled steed a switch on a horseback could be worth consideration (link).