Before leaving France for Rostock, I spent a week in the Tarn gorges with a friend. It was my first-time hiking and I fell in love with the activity. So, I was hoping to find some nice places near Rostock where I could hike alone or with friends for the summer.
At first, I was a bit disappointed when I was told that the Rostock area was flat, very flat. First, I said goodbye to my dreams of intense meditation while looking at the horizon from a cliff, then I learned about the island of Rügen, especially the national park in Sassnitz.
It's about 2 hours from Rostock by train to Sassnitz, once you get to the station, there are regular buses to the park. You can arrive at the very end of the park, to enjoy the view first, or stop at the very beginning and walk up. I really wanted to walk first and then enjoy the view, so I chose the second option and stopped a few stops from the station. The hike lasts between 3 and 4 hours, I thought the area was flat, the island of Rügen is not. Don't hesitate to take plenty of water and food if you are not used to intensive walking as it can be quite exhausting. And wear sunscreen! Even if the place is very well covered by the leaves, the sun is still very strong, my shoulders still remember it.
On the way, there are several beautiful viewpoints, so we first pass by the Ernst-Moritz Sicht: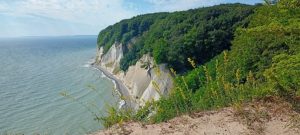 Then the Victoria Sicht,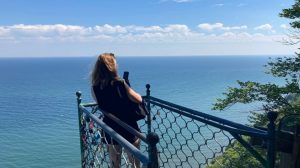 Once here, you can go back the other way or join the bus stop back to Sassnitz. Next to the bus stop, you can get to Königsstuhle, but you must pay the entrance fee.
What is good with the island of Rügen, it is the choice of the places to be visited, one cannot do everything in one day! For my part, after the hike I joined my friends in Binz to accentuate my sunburn on the beach.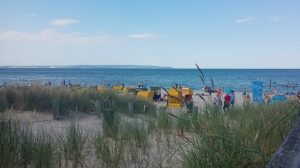 But during the hike, I had a photo break with a couple from Hamburg who advised us to visit the Putgarten, located on the side of Lohme, you can go there with the line 14. According to them it was beautiful, so I think I'll spend a few more weekends there to discover more.