With my French friends, we hardly found an outdoor place in Rostock that we really liked, and then we started to look around the harbour.
What we wanted was a place where we could hang out late and enjoy the sunset without freezing to death, because the port of Rostock, before May, even if it's very beautiful, is very windy and you tend to freeze quickly. So, one evening in April, we decided to go to the harbour from the Neuermarkt tram stop.
On the opposite side of the main square, head towards "Hafentreppen", which you can easily find on Google Maps. We discovered this little place where people were holding outdoor salsa classes.
Besides enjoying the music and watching these people dancing lovingly with their partners, we noticed that this place was well insulated from the wind! So, we sat there, tried to reproduce the dance moves, and admired the sunset until we saw the first stars.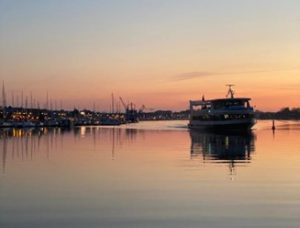 The view is just beautiful, if you like to spend time outside it's really a good place, there are also two very chic restaurants with big terraces (as well as biergarten), I haven't tried them yet but they often have a lot of customers so I guess it must be good! For those who don't like to stay still you can also walk along the harbour.
As for us, we just enjoy a good beer and chips (sometimes a pizza ordered on the Lieferando app), we take something to play, sometimes we just listen to music. It's simply become our favourite place in Rostock when we want to go out during the week without spending too much money in the bars, we can't get enough of it!