Love coffee? Don't like to enjoy a really good and tasty coffee in a bakery or café? You are tired of medium quality coffee Togo? Or want to drink aromatic coffee at one of place of your choice?
If yes then you should really visit the coffee bike and get a high quality, bio and aromatic coffee Togo.  Frien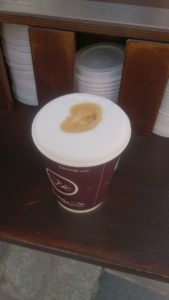 dly staff  (they take their time to talk to you) prepare delicious and some creative coffee specialties for example a sweet hazelnut latte macchiato. This one I like most. One of the best things is that you are free to choose your place of enjoying it. You can walk through the street, sit somewhere in the green grass or at a bench on the Universitätsplatz.  I enjoy buying my coffee there, because of the staff. Great coffees made with liquid treacles. The coffees are at a medium price range about €3.60. Every day there is a daily special which you can enjoy for only €3.00. It is very favorable that you can get all coffees with lactose- free milk so that you can enjoy their coffees even when you have a lactose intolerance. In my ease, it is the place where I can enjoy coffees together with my brother. The coffee bike usually stands in front of the "Universitätsplatz" in Rostock's city centre, but you can find several other coffee bikes in places throughout Germany and Europe (if you are interested in finding a coffee bike: https://coffee-bike.com/de/).
You absolutely should try one of these fantastic and delicious coffees!!!