Finally, after a long time of waiting, spring has sprung and with it the season of a sea of white and pink blossoms in the botanical garden in Rostock. It´s the time of the year where nature awakes, the dry grass becomes green again, birds sing, the sun shines until 9pm, and everyone is just in a good mood and wants to go outside. If you love this time of the year (like me) I would totally recommend going for a walk in the botanical garden. It is located at Hamburger Straße, right next to the Hohlbeinplatz; you can easily hop on Tram 1,2,3 and 5 or the S-Bahn from almost everywhere to get there right away.
Once you enter the entrance gate, you are right in the middle of a beautiful japanese cherry blossom alley. In May, especially, when all the cherry trees are in full bloom, this is my favorite part of the garden — probably  because it reminds me of the lovely memory of a trip to Washington D.C., a city which was covered with stunning cherry blossoms at the time and for that reason will always stay in my head and heart.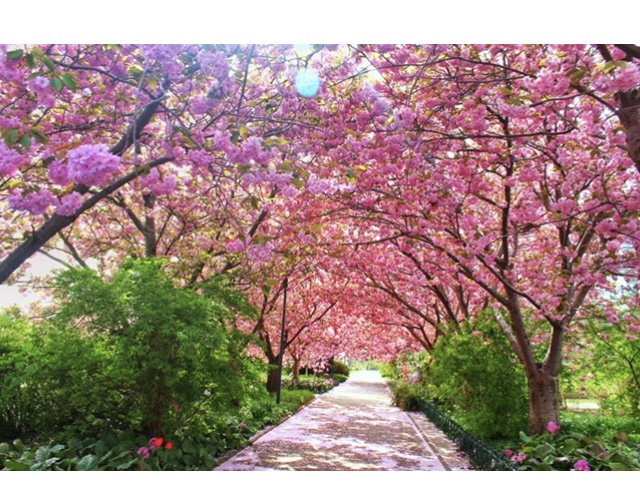 If you are in the botanical garden, you can not get away without taking at least one picture of the blaze of color. Well — looking into my Iphone camera roll (#Link), one picture might be a massive understatement since there are hundreds of pictures of it. As you can see, I love to capture the beauty of this natural spectacle, whether with my reflex camera or simply with my phone. Anyone who likes taking pictures would also see this is the perfect spot to take some nice photos. The pink cherry blossoms in the background create a beautiful bouquet (#Link) for a photo. Some beautiful macro photos of single blossoms, stunning portraits of your company or some wide angle shots of the entire alley are begging to be taken. I love to capture the pictures during the golden hour when the last sunrays of the day hit the world and color its beauty in warm, aureate shades. And because I often share some aesthetic pictures and videos of my surrounding on social media, I also like to film some short sequences, for example in slow mode or close up, which I then edit into a Reel for Instagram (#Link). After capturing the beauty, all the distractions of phones and cameras and other technologies should be packed away and the soft, velvety carpet of cherry blossoms under the trees offer themselves as a gentle path while the petals float down like a light, warm summer rain. But for now, grab your camera, go to the botanical garden, take some pictures and collect some cherry blossom memories that will last forever.