Vegans only eat raw vegetables and dry bread, right? Or Boring salad and gras? Or they have to eat so many lentils  that their skin turns into a weird colour to counter protein deficiency? Wrong! Nowadays, there are plenty of vegan foods you can enjoy which are not only for vegans. 😉
But, I'll admit, however,  there were times when I struggled to find anything vegan when in town. Those days are long gone as new vegan places have emerged in Rostock since last summer. Don't get me wrong, we had some (Grüne Kombüse, Peter Pane,…) before, and they're really good, but it is nice to have more choice. Also, a lot of restaurants offer more and more vegan-friendly options (hello, fast food chains 🙂 ). But I want to tell you about the four (!) different, totally vegan, and absolutely delicious places in the KTV (see map at the bottom) which offer a broad variety of deliciousness.
So, if you long for ice cream all year long [like me] VEIS is THE place to be. They have a daily changing selection of ice cream and multifarious toppings. You might fancy not one, not two, but THREE glorious scoops of  choice ice cream – they'll happily provide. In that case you should order a 'Schlemmerbecher' (which roughly translates to aficionado's tub). You'll get three scoops of your choice, loads of whipped cream, sprinkles, or a sauce as a topping. It's really, REALLY good. They offer reusable cups and bowls if you want your ice cream to go or take some with you for later on. And in the wintertime during those chilly days, you can get a remedying hot waffle. And if you're also into that sadistic kick of eating ice cream despite cold weather, you should take a scoop or two with it… Check them out: https://www.instagram.com/veiscafe/.
More into cakes or want waffles in summertime? Then Glückskind is your place to be now. And if you're on the hungrier side, you should try their delicious avocado or spinach sandwiches. Want something more fresh and cooling? Go for their yoghurt or acai smoothie bowl. But beware: their portions are also BIG. So, there is always a reason to come back as you can't try everything in one go — or you wouldn't want to try. And, believe me, you'll want to come back — not only for the food, but the warm and welcoming place and people. I could spend hours there… actually sometimes I do. And if you want to go there on weekends, there is a special breakfast menu not available from Mon–Fri. But be aware: it might be very crowded, as everyone and their mother goes there, and we all love the place. You can also just hop in to take some cake, like cheesecake or my very favourite rice pudding cake, or their new specialty soft ice cream with you, even if it is crowded. They also offer gluten free food. Check them out: https://www.instagram.com/glueckskind.rostock/.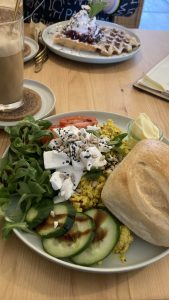 Not the sweet tooth type? Then maybe Küche des Friedens or Vegangster are the places for you. Both offer different kinds of burgers and vegan Döner, but there the similarities end. Küche des Friedens currently has three types of burgers on their menu: the 'bananarama', the 'Küche des Friedens burger' and the 'cheeze burger', as they're more into offering a broad variety of foods. For example, you can choose between roughly six kinds of Döner, like classic, as a wrap, with fries or just salad. Or maybe that is too heavy for you, so a classic Cesar salad bowl or a tofu peanut bowl may be more up your alley. Those are also gluten free. Just want some fries or 'Mac'n'Cheese balls' as a snack? You should definitely try those! You can also choose the dip to your liking. They always come up with new dishes, and there is something for everyone. On Mondays and Fridays, they also offer different kinds of homemade Donuts — they're always heavenly. Check them out: https://kueche-des-friedens.de
Vegangster focuses more on burgers, but they always have a special weekly dish, and if they're offering chili cheese dippers — an unbelievable good blend of French fries and potato wedges with cheese-like sauce — you shouldn't hesitate: they are unbelievably good due to the cheesy sauce. And if you're not so lucky, you should always just get these amazing dippers with a normal sauce, as no other fries or wedges can reach this heavenly mixture of crunch and softness of the dippers. I can really recommend to you their alioli, as it is not thick like mayonaise and, therefore, sticks just in the right amount to the dipper and adds pure deliciousness without being overbearing.  If you're having more of a sweet kind of day, they also often offer some homemade tartes of different sortes, like snickers or raspberry-hazelnut. Check them out: https://www.instagram.com/vegangster_ktv/.
All of these places are so amazing and pure heaven for your tastebuds, but you should check out if they're open that day you'd like to visit. For example, Küche des Friedens is closed on Wednesdays and Thursdays, whereas vegangster is open on those two days, but closed on Mondays and Tuesdays.  Also, keep in mind that they're rather small and you might need to make a reservation for a table or just take the food with you to a well-scouted spot nearby.
Writing about all these delicious foods made me hungry, so I'll scurry off getting something for myself. Something besides my daily bale of gras. 😉