Amidst the lockdown owing to the Coronavirus, I've likely spent far too much time on bizarre and random thoughts, such as letting my mind drift to mundane meditations – from how to play around with my favourite khachapuri recipe to make it more flavoursome, when to best do exercise to combine not irritating the neighbours downstairs with finally finding some proper willpower, where I'd like to be stuck if another pandemic were to occur.
One such wondering lead me back to an exceptional experience I enjoyed a few years ago, and one I'd like to repeat when circumstances allow: a whisky tasting.
I'd never been to Neubrandenburg before; I'd certainly never been to such a living room before: from floor to ceiling, from wall to wall, nearly all the eye can see is marvellous, magnificent, beautiful bottles of luscious liquor – principally my favourite: whisky. If you asked a bunch of people from this State of MV where they'd most like to go when life allows more freedom again it's probably not one of the first places they'd mention, but these are my mundane meditations, and they lead me to where they will.
It was that living room in which I took part in a phenomenal whisky tasting at "The Quaich" hosted by Herr Matthias Sammler. I couldn't have hoped for a better host — open, friendly, intelligent and informative, but also generous, personal, and passionate (the feature that really distinguishes a great tasting event for me). Why go to a whisky tasting? Obviously you have to either like/love or be curious about the stuff, you may wish to gain more knowledge about it, you should wish to immerse yourself and your senses in it quite intensely, you might want to make/develop acquaintances, and you must certainly simply be up for the enjoyable experience of sharing it and its costs with other people (otherwise you could just order it and watch phenomenal videos from people such as the brilliantly tongue-in-cheek Richard "The Nose" Patterson – but considering many bottles cost well over €50 that you're not sure you're even going to really like, you'd have to have ridiculously large finances and remarkably little sense to do it that way).
My reasoning was met by them all. It was cosy, convivial, and more importantly than all else "lecker, lecker , lecker!" I enjoyed sampling some fine surprises from German whiskies: a Preussischer whisky (including "Crazy Horse") was unexpectedly delectable, whereas the Glen Els "Botschafter" was a complex, rich, toasted treat that, to my mind, can stand proudly among the best that other international whiskies can throw at Scotland's. A great many glories duly followed, including a rare apricot-raisin-plum-fruity-fantastic port-matured 6 year-old Bunnahabhain topping a series of wonders including a classy claret duo of a "Glenmorangie Taghta" and "Edradour Tuscan Cask Finish", and after that, all I remember is feeling amazing and possibly constantly smiling uncontrollably as if someone had attached my mouth from ear to ear (instead of a mask as at present).
This is me, there, looking about as happy as can be…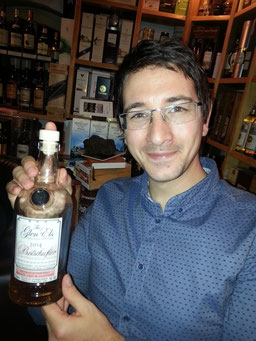 Now I often find myself thinking back to and missing such silly and fun social evenings, and aside from that feeling of delicious delirium, I found myself thinking back to a joke Matthias told (originally from W.C. Fields): "Always carry a large flagon of whisky in case of snakebite … and, furthermore, always carry a small snake". It got me thinking that I should have a significant stock of whisky in case of a lockdown, and always carry the excuse that you never know when you'll be limited from getting yourself more. If another lockdown ever seems to be on the horizon, you may well hear me saying something rare for people from MV: "get me to Neubrandenburg"!