When you are staying in Rostock it is obvious that you start exploring in the city. You might visit Warnemünde, go shopping in the city centre or relax at the beach. But I can tell you it is well worth it to widen your horizon. When you want to have an active but also relaxing day outside in the green you should definitely visit the Hütter Wohld (which means forest in Plattdeutsch) close to Parkentin. It is a green oasis in the middle of nowhere. There are several ways to get to there: you can go by bike, take the train or your car (if you have one). Going there by foot is not what I would recommend. You will be completely exhausted and unwilling to go any further once you arrived. If you should come by train (take the Regionalbahn heading for Wismar), follow the Barthenshäger Straße until you hit the Doberaner Straße. Then follow the unnamed street between the Doberaner Straße and the Wiesenstraße almost until it ends. Take the Am Hütter Wohld street and follow it until it ends. Now you only have to go left and walk straight into the forrest.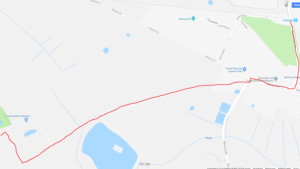 Once you reached the Wohld what can you actually do there? ENJOY yourself! Let go of all these problems that trouble you and just relax. After you did this first step you can explore. There are many differently sized ponds in the area which invite you to swim in them, have a picknick in the green meadows around them or simply see them as quiet companions on  your way through the Wohld. There are also lots and lots of animals to befound in the ponds and around them. Friends of herpetology or ornithology will be very pleased with this location, because you can easily find many different reptiles (for example the natrix natrix) and birds (for example the Cygnus olor).
If you are looking for a route through the woods I recomand that you follow the link below and check out map shown there. It shows you an easy and fitting way for all fitness levels.