Most of the people who move to Rostock want to live in the city centre or in the KTV because those districts are closest to the university, the trendy shops or the cute restaurants. One year ago, when I moved into my own flat, I chose to not live in those districts. Instead, I moved to Reutershagen, and I am still loving it here! Whenever I go outside, I am surrounded by green trees, bright bushes and small plants that always brighten up my mood.
If you ask me what Reutershagen's centre for social gatherings, sport activities or sunbathing is, I would definitely answer Schwanenteich. If you live in Rostock and have never been there, you should instantly change that! Here are my five tips to make your stay at the Schwanenteich absolutely incredible.
Number one: Grab a pair of running shoes and enjoy your nature run around the park. The different kinds of surfaces and varying inclines and the breath-taking views will make your run extra fun! You can also do other sports as well; play football, go inline skating, and of course also play frisbee.
Number two: Just take a stroll around the park and enjoy mother nature. Take your time to explore the amazing places at Schwanenteich. The extensive lake with all its animals – the agile squirrels, the feathery ducks, and the graceful swans – the and the small connecting river with the sturdy wooden bridge and the little woodland are my favourite places here.
Number three: In the summertime in particular, we Rostockers love to have relaxed barbecues with our friends. Unfortunately, places like Warnemünde beach or the Stadthafen can be really crowded and noisy. Why not transfer your barbecue to the Schwanenteich and enjoy the relaxed atmosphere and space of Reutershagen's green oasis? As long as you stick to the rules!
Number four: Visit Schwanenteich during the end of April! All of the tulips, daffodils and cherry blossom trees are in bloom, looking like a colourful tapestry. You should definitely take a blanket with you and rest under the pink petals of a cherry tree that can be found around the park.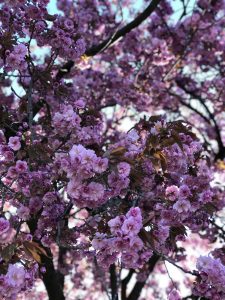 Number five: If you are interested in any kind of art, you should visit the squared building of the Kunsthalle, the local art museum that is located between the Schwanenteich and the Hamburger Straße. There is also a little coffee shop where you can enjoy freshly brewed coffee and delicious cakes in the sun.
Now that I got you covered, what are you waiting for? Have fun and head out to explore Rostock's most underestimated park!