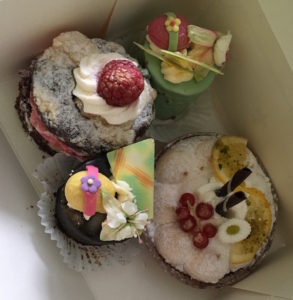 Who doesn't love puns? Personally, what attracted me the most about the bakery shop and the delicious baked goods, that I'll be swooning over later on, was the wordplay on the outside of the shop. Right across the street from the streetcar station "Schröderplatz" is a bakery called "Brotzeit- Ein Stück Rostock". Well, it is probably a horrible idea to even try and translate one pun from one language to another but I still want to give it a go. To be honest it's not even that funny but I've always been a sucker for lame jokes and this one still gets me smiling from time to time.
Loosely translated, 'Brotzeit' means something like 'bread time' or 'time for bread' . A 'Brotzeit' is probably the german equivalent to a brown-bag lunch. A sandwich you quickly prepare to keep you full until the next meal.
The Catch phrase 'Ein Stück Rostock' means 'A piece of Rostock'. And this is where the wordplay comes in because the'A piece' part also refers back to the whole 'Bread time' or 'Time for bread' thing. Therefore the 'Piece of Rostock' easily turns into 'A piece of bread of Rostock'. If this pun made you cringe because of how badly I translated it – I deeply apologize. Despite lacking a sense for good humor and translating-skills…
I don't want to negate the fact that this bakery has indeed the best baked goods I've tried in Rostock so far.
They do serve all different types of freshly-made sandwiches, which I never got to try because I always end up ordering four different pastries anyways. Every time my mom and I have the strong intent to only buy one piece of cake each and then leave the bakery. It never worked. We always need ages to decide on what to get and whether we want to eat in the café or take the cake-masterpieces back home. And every pastry they sell truly is a masterpiece. From cookie monster cupcakes, macaroons, cheesecakes, cake pops to petit fours.The lavender- or baby-blue-colored icing, roses made out of marzipan or golden glitter that is dusted over some of the cakes, are a feast for the eyes itself. The best part: It doesn't only look good, it also tastes delicious! The prizes for the fancy cakes, however, are outrageous.
I think my mom and I paid a good 15 euros for those four pieces of cake. As a self-proclaimed gourmet and cake-enthusiast, I still believe that almost 2 euros for a single cake pop is way too pricey. The cake pops are great by the way. Too expensive to enjoy every week, but great.
Brotzeit- Ein Stück Rostock
Am Vögenteich 25
18057 Rostock