Rostock, though a town of humble size, when compared to the Hamburgs or even New Yorks in the World, is host to a branch of education that cannot be found very often. Music and theatre are often not a very lucrative trade, so the hmt (Hochschule für Musik und Theater), which is a higher educational institution that specialises int these arts, is one of few in Germany. Consequently, many talented young women and men study here, and every once in while focus their musical and creative minds on bringing an Open stage evening into being.
The 'KULTURcafé', which roughly translats into 'cultural coffee shop', is brought into being by the representation of the student body and takes place every last Thursday in a month (10 p.m.) in the hmt's historical buildings. These are, themselves, worthy of a visit – originally stemming from 1223, the high ceilings and red sandstone create the perfect atmosphere for …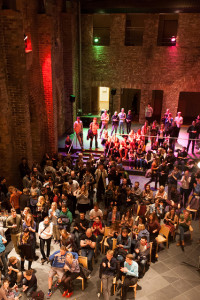 Admittedly the surroundings enhance the  magic ofclassical music and art and though these kinds of concerts are often staged in the adjacent halls the KULTURcafé only holds few from this epoch. The students and any other people who are brave enough to perform alongside them (every contribution is genuinally appreciated) supply for a wide variety of (mostly) music. Pop, rock, classical music, jazz, funk and theatre are all performed on various instruments. These you obviously have to bring yourself unless you want to use the piano which is, together with the microphone, the basic equipment provided for as standard.
But entertainment isn't the only reason to stop by: the KULTURcafé has become somewhat famous in recent years as a meeting place for many young people. And as many international students study here it is also a possibility to meet up with students from other cultural backgrounds and enjoy the open-mindedness of everyone present. So if you don't like a song, nobody will be upset here if you leave the area where it is played to and join the chattering at the other end of the foyer.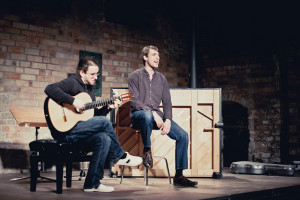 To ease getting into contact with other people, it is possible to grab a beer, a glass of wine or, some self-made mixed drinks. They cost between between 1 € and 2.50 € so you won't shred your wallet while shedding you of your shy rafts.
After a couple of hours (usually at around 1 a.m.), when nobody is left volunteering to contribute, the open stage is dissolved, and sometimes the evening gradually turns into party; the piano is superseded by a DJ and you might stay there "until the clouds have grown lilac again" [a bad but honest translation of a famous German song text].
Pictures: Markus Sümnick