Picture this image from a Hollywood romance: A boy and a girl – freshly fallen in love,  sitting by a campfire by the sea and enjoying a glass of red wine. The reality, however, is quite often more complicated. In many cases, fires are prohibited in Mecklenburg Vorpommern (due to the danger of forest fires etc.)  and in the others the sea's ebb and flow often prevent us from finding the perfect space.
Warnemünde holds the solution: The steady tide and some set fireplaces on the beach offer exactly that possibility. Obviously you can come here with a bunch of people, too; or even have a little / large party (though I normally prefer the little ones).
The place
There are essentially two spots where iron circles are placed in the sand that are intended to contain fires. The first is located in the west of Warnemünde, near the (beach entrance) "Strandzugang 27". You can reach it by taking the bus (36 or 37) to "Warnemünde Strand" and taking a short stroll along the beach always keeping the ocean to your right. The second spot is a bit more difficult to reach. You can take the ferry from Warnemünde to "Hohe Düne" and the bus (17 or 18) to Markgrafenheide. From there it is still 45 minutes of walking to "Strandzugang 31".
The time
Admittedly, there aren't as many fireplaces as one might wish for. But if you're not taking the warmest summer evening on a weekend, you'll find an unoccupied one. If not, go and ask people if you might join them. They'll normally happily agree and sometimes bring conversation, drink or wood to your group that you otherwise would have missed.
What you should bring
If you'd like to light a fire, you should obviously bring matches and some old newspapers. There is the possibility to grab a bit of dead undergrowth in the nearby forest (if you want to call a couple of trees forest) but you're on the safe side if you bring some wood as well (rain from the previous days or the small amount you find can otherwise bring your evening to an early end). Everything else is up to you. A game, some music (or a guitar), a couple of chilled drinks, something to eat, or even a barbecue will make your evening unforgettable. (But beware! The sand reflects the heat very well and will make the lacquer crack and peal off.)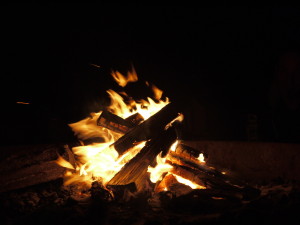 Where to sleep
Raising a tent at the beach is prohibited and I have never seen anyone trying to do so (though some use a sort of sunshade made for the beach) but you won't get into any trouble by bringing your sleeping bag. It's less comfortable than a bed but waking up (with a lover) to a sunrise over the ocean can really make up for that. And if you aren't woken by the morning breeze the machines that tidy up the beach at 6:30 will do the job.
---
-Buses:
There is a variety of choices for tickets you can buy from the busdriver or vending machines:
Ticket

Price

Price for Children and Owners




of a 'Warnowpass' 

Single Ticket

Day Ticket

Day Ticket Group
(<6 persons)

 2 €

4.90 €

14.80 €

1.50 €

3.60 €

–
*all prices for connections from Rostock
Schedules for the bus lines can be seen here.
-Ferry
A single ticket for the ferry from "Warnemünde" to "Hohe Düne" is at 1.40 € (reduced 0.90 €) and can be purchased at the ferry station. Day tickets include the ferry pass. The schedule is available here.
---
Picture: Juliana Pfeiffer