Travelling is one of my greatest passions. You might relate. 😛
Unfortunately, one of my biggest weaknesses is being chronically broke. What usually happens when I'm at the ATM is that it either starts laughing with cynical pity or it just gives me the finger. You get what I mean.
I spent the summer of 2015 in the US of A (the money for which came from three months of 12-hour-shifts at one of Rostock's crappiest fast food delivery places – I thoroughly do NOT recommend it – though I can't give you exact information – what goes around comes around ;).
The first two months in 'Murica, I worked as a counsellor at a summer camp in Massachusetts (which I thoroughly DO recommend!). But then there was another month left before my return flight which I'd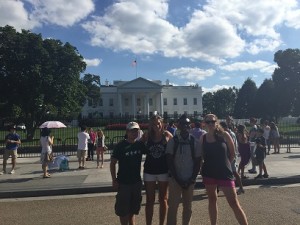 planned on spending travelling the country. I'd met an Austrian girl at camp who was just as broke as me, and we decided to go travelling together. The travel route was quickly mapped out, but we had no clue how to pay for accommodation. Should we sleep on park benches? With all our baggage?? No way! Could we get away with loitering at train stations all night? Didn't sound too appealing either…
Fortunately, however, I dug up this memory from the dustiest corner of my mind – I had at some point heard about a thing called 'couch surfing' where, apparently, you could stay with random people for free and they'd show you around the city and give you some insider tips and it all sounded like a great adventure of cultural immersion and meeting awesome new people.
My friend was rather sceptical about it at first, but looking into our bank accounts broke her resolve, so we thought we'd just give it a shot. It turned out to be the best decision we could've made. We stayed with three amazing hosts from New York City all the way down to Orlando, Florida, and since then, I myself have hosted people several times here in Rostock. Thus, I humbly consider myself an insider on the matter so here's my expert's guide to couch surfing:
Step 1
Create a profile on the couch surfing website.
When you get started on couch surfing, logically, your profile is the most important thing. You should fill in all the sections; after all, people are inviting you into their private homes so, naturally, they'd like to know what type of person will be staying with them. So tell them a bit about yourself. Use your real name (it just makes you less of a creep and more of a trustworthy person for potential hosts) and upload some profile pictures (don't put nothing but pictures of your shadow at the beach staring contemplatively into the distance or that one awesome pic of your entire squad to leave your host guessing which one is you). Your profile should be original and truthfully reflect who you are. That way, it's more likely that (1) hosts are gonna be interested in meeting you and (2) that you and your host will get along well.
Step 2
Find hosts.
When you type in the place you want to visit, the site is gonna show you all the available hosts in that area ranging from most active/most reviewed downwards. Check out their profiles and use your good judgement when applying. The site is very safe thanks to the reference system (so, read the hosts' references to see what other members have to say about them) but, as everywhere, there are some black sheep within the community, so be careful with people who, for example, offer you to sleep in one bed with them or engage in lifestyles you're not comfortable with (like, for instance, nudism). Yes, that actually happens, so better be safe than sorry.
Read the hosts' profiles thoroughly. Some hosts – especially in particularly popular couch surfing areas like Manhattan – include hidden messages somewhere in their profile which you then have to refer to directly when you message them. That's how they make sure you've actually taken the time to read their profile and are not just looking for a free place to crash.
Step 3
Contact your potential hosts.
Don't be cheap – write a personal message; don't just copy-and-paste the same message to all hosts. They will know; they will not approve. Nobody likes mass-texts and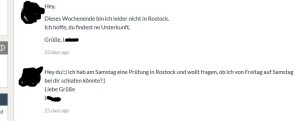 chain-mails. So, go the extra mile and personalise your message. Your potential host loves Lord of the Rings and so do you? Great! Mention that! They have an unusual hobby you'd like to partake in? Tell them! From my experience as a host I can tell you: If I feel like somebody has sent me a 'one-size-fits-all'-type of message and is obviously neither interested in me as a person nor in my city but just doesn't want to pay for a hostel when going on a job interview, I'll decline right away.
Step 4
Get everything set.
Make exact arrangements with your host on when and where you'll meet. Ask them for their address and phone number, and give them yours so you can contact each other if something happens at short notice. Bear in mind that your internet connection could fail you at any point in time.
Oh, and once you've decided on a host, don't forget to decline others you have contacted – just for politeness' sake.
Step 5
Have a backup plan.
Things can happen. Your host's nan, who lives 300km away, might get ill and need them or, despite all your careful preparations, your host just doesn't show up or sends you away. It has never happened to me and I've never done it myself but I've heard of instances where that happened. A host is in no way obliged to let someone who appears shady to them into their home and vice versa for you as a surfer. Don't enter somebody's place if you feel unsafe.
Then there you are. What to do in a place where you don't know anyone and have no money? Pretty much screwed, aren't you? That's why you shouldn't travel without money. Always have a nest egg big enough to cover the expenses of a spontaneous night at the hostel.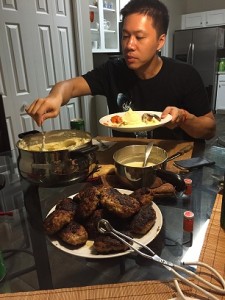 Step 6
Be a considerate guest.
However, if your host does, in fact, let you in, this should go without saying but anyway: Keep to the house rules. Clean up after yourself and be mindful of how your host likes to have things – it's their home. Common courtesies include bringing a little welcome gift (something small – a bottle of wine or something handmade), doing the dishes or preparing a meal for your host.
Step 7
Have a blast.
You're in a new place, a foreign country perhaps, and you have a local right there at your disposal. Ask them about some tips and tricks to get around the city and for some spots tourist might not usually go to but that are worth seeing nonetheless. Hang out together if your host has the time for it. They probably love travelling just as much as you. They're probably just as keen on meeting new people as you are. They'll surely have plenty of hilarious anecdotes to share. Engage in each other's activities. You might have just found a friend for life.
Step 8
Write a reference.
The entire system of couch surfing lives off of the references people leave each other. You and your host had a great time together? Let the community know so future surfers can enjoy your host's good company. But of course, if the two of you didn't get along, you also should let the community know – but be respectful and objective about it.
There you go. Now you're an absolute pro when it comes to couch surfing. All hosts are gonna scramble to get you as a surfer. 😉
Personally, I haven't had an even remotely negative experience with couch surfing so far. I'm excited to meet new surfers here in Rostock and to show them around this city I've grown to love so much – maybe it's even gonna be you right there! Yeah, you – reading this right now!, who'll be my next surfer. I'm already looking forward to meeting you. 🙂 And I can't wait to travel the globe some more and meet more amazing hosts myself.
Cheerio!