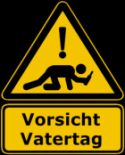 Father's Day. No, "Herrentag"! Or "Christi Himmelfahrt"? – don't care about the name and just consider its most important feature: It's a day off! But don't be pleased too soon! Like everything, unfortunately also this holiday has a catch: it throws up particular challenges! Which? Well, I'll clear it up to you.
Firstly, whether male or female, you shouldn't forget the person making it possible – in all respects – that you can celebrate this day: your fantastic dad! So either think of him or tell him how lucky you are to have him, and if you can manage it, meet him and give him a big hug – and maybe also some sort of alcoholic drink. He will be extremely pleased, particularly as a large number of men in Germany spend this day drinking and wandering around looking for more opportunities to drink!
So how should you approach this day as a woman? Secure yourself a nice activity for this day because if you think you can just hang around with your boyfriend – forget it! He will probably be everywhere… But definitely not around you! (at least until he is finally slouched on your sofa again – best, rather tipsy; at worst, totally drunk). Don't allow this to bother you too much! It's certainly the same for most women around here, also for your best friends and why should only the boys have an enjoyable day? You are also allowed to meet your bosom friends and spend an enjoyable beauty or shopping day. Thereby, your guys would bug you anyway.
If you are a man, you have to cope with these three important tasks: arrange a date with your friends, arrange a coaster wagon, and arrange lots of alcohol! Then it will be probably the perfect day for you!
As you can see, the day's demands are definitely manageable. So what more can I say than take my advice, enjoy the holiday and don't forget that in the proximate morning your boss expects you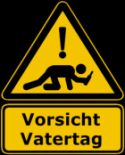 again.