I am fed up with shopping within the inner city of Rostock. Firstly, it takes ages until you find a parking place at a tolerable price. Secondly, until you finally found one – somewhere in the periphery – you are already desperate for the toilet. Wherefore your shopping budget decreases again. Thirdly, if it then even starts to rain, the disaster will be complete. And your good mood will soon be gone.
However, I've found my perfect alternative: t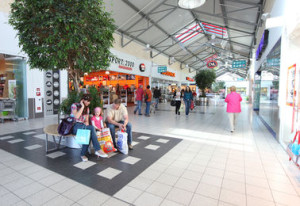 he Ostseepark Sievershagen! There you get everything your heart desires and you may have desperately sought in Kröpeliner Straße: lots of FREE parking places, FREE toilets and a big sheltered Shopping Centre – a real blessing, particularly when the weather doesn't "play with"! Of course, that's not everything. You also have endless fashion shops, a huge REAL, and other diverse stores. Admittedly your hair provisions will be fulfilled with what feels like 100 hairdressers. And at the time you get a new haircut, your shopping partner(s) may take a look at the incredibly cute hamsters at the zoo shop. Or savor a delicious and – if you have the right waiter – gigantic ice-cream cone. Sounds great, doesn't it? So don't wait, and get your own idea of my latest discovery, and let me know your opinion about it.