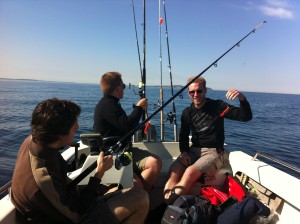 Every now and then you might feel the need to escape your everyday life. Something extraordinary, something enjoyable, something adventures, something to escape the crowd, something that really gets you away from the hustle and bustle and stresses and strains. If you enjoy fishing and being on a boat, then I have an unforgettable piece of advice for you: experience a boat trip from Rügen in MV.
Every year my buddies and I have this tradition of renting a boat on Rügen. It's the perfect adventure to get your mind off of your daily routine. It doesn't matter if you want to go fishing, swimming or boating, the awe-inspiring landscape of Rügen's bay makes this day unforgettable. To really make the most of this trip, you need to get up early, as it is worth spending the whole day at the bay of Rügen or further out on the Baltic Sea.
Before you leave, check the wind forecast to make sure you won't get seasick. In extreme cases boat-hirers might even have to cancel the trip as a result. This rare exception has never affected our trips. To own a boat driver's license (the "SBF See") is certainly an advantage if you want to rush over the sea have to the possibility to rent a boat with more than 15 Horsepower. For a fishing trip this, level of motorization is totally enough to bother some pikes in the bay and even get some codfish at the nearby coast around Rügen. An echo sounding device is certainly an advantage to find your targets. Most boat providers offer such technology as well as fishing rod clamps and safety equipment. Make sure the boat you hire is up to date with these things. Otherwise, you could even get in trouble with the police with regard to the safety equipment.  Keep an eye on the life jackets in particular. The bay of Rügen has lots of shallow water spots where you need to keep an eye on the echo sounding device to check your depth (a new marine propeller would really blow up your estimated trip expenses). Don't worry about this advice too much; a detailed introduction as well as a map, in most cases, will be given to you before you start your trip. If necessary, you can also hire a guide, who will take you to the best fishing spots.
For all fishermen; Rügen's bay is famous for its big, fighting-enthusiast pikes. These pikes taste much more pure and fresh then in other lakes because of the fresh salty water they live in. It's appropriate to use bigger bait as these pikes are not the smallest either. Codfish are the most desired fish further out on the Baltic Sea. In spring, at about 10C° water temperature, garfish swim around and close to the island. That's when the pikes are extremely hungry too. A very special target is the salmon around Rügen on the Baltic Sea. This fish is hard to catch. The most successful and dominant practice is called "trolling" in which you tow the bait with your boat. It is appropriate to hire a guide to show you this technique. Here is a map that shows the fish you can catch around Rügen: http://www.kreidefelsen.de/Sport-hobby/angeln/fanggebiete.htm
The trip expenses vary depending on the motorization you choose. Not only the rent is going up with regard to the increase of the motorization but also the fuel expenses can't be unnoticed (We were pretty astonished about our mileage). The price area ranges between €40 for a 5 horsepower boat + fuel to €180 and more for a 140 horsepower boat + lots of fuel.
So escape your "everyday" and find your way onto Rügen's virgin bay.
Here are some examples of boat hirer:
http://www.ruegentime.de/bootsverleih.html
http://www.angler-ruegen.de/boot.htm
http://www.angelladen-ruegen.de/bootsvermietung.html