Going on holiday – Which of us doesn't yearn for that? The Problem: no money, no time. Nevertheless, your childhood dream of a trip to Australia doesn't have to remain just a shadow. Not if your destination calls "Cook"! You will then be there faster than you think. Believe it or not, this little Australian corner is located in the midst of Rostock's inner city! And the thing that distinguishes it from all other locations in Rostock is this: you will find delicious and exotic food there. Because "Cook" is not only the name of a fantastic Australian restaurant, it's what they can do exceptionally well!
Its menu boasts a wealth of curious offerin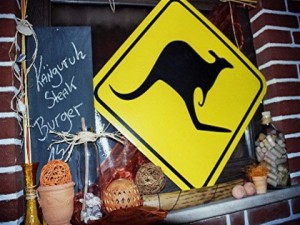 gs: Goulash made of ostrich, crocodile steak, kangaroo joint, and even shark meat – once you've tasted it, Burger King and the Chinese next-door will be things of the past. My special insider tip for you is this: book a table for an evening when the restaurant offers its "All you can eat" buffet! That's the best way to taste all of the exciting dishes – even if you feel as full as a tick afterwards. And all this exoticness you will get for less than €20! I promise, it's really worth its salt!
Moreover, you will make a discovery. Besides the mashed sweet potatoes, behind a big pot of Pacific soup, amidst an appetizingly smell, there is someone hiding. This is, in fact, the chef of "cook", who will make it an unforgettable evening for you. He will make you feel that Australia can be closer to you than you think…
So time for this little getaway? You should find. Money? Shouldn't also be a problem. And appetite? You should definitely have now!