Willing to see great places on Mecklenburg-Vorpommern's doorstep?
This introductory article goes out to all of you planning to go on a trip outside of Mecklenburg-Vorpommern, while you are maybe spending your holidays in Good Old Germany, and in "Meck-Pomm". I will shortly present and take you on a visual tour through my former hometown, Potsdam, which is the capital of Brandenburg and not far from Berlin.
Starting in Rostock, for instance, Potsdam is easy to reach by car, bus, or train. Just check Google Maps if you are going by car, or the DB website  if you want to travel by train.
All the lovely sights in Potsdam are mostly not far away from each other, which means that this is a perfect one-day-trip.
While firstly thinking about Kröpeliner Tor whenever thinking about Rostock, there are not only recent debates about Potsdam's landmark. I would suggest Brandenburger Tor, because it has a recognition value and the first impression counts, doesn't it? Furthermore, it is an ideal and central starting point for a city tour. Starting from there, you should definitely go shopping in Brandenburger Straße or maybe you enjoy coffee and cake in one of the many little cafés and bars.
Special attention should be drawn to architectonical highlights of Modernism and Barock while you are walking down the streets ofPotsdam.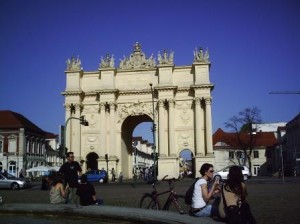 Another must-see is Park Sanssouci, for which Potsdam is also famous and which has historically shaped the town. For those of you interested in Prussian history, this will definitely be the highlight because you can really trace the steps of the Kings and Queens of Prussia during the 17th up to the 19th century. By the way, the name "Sanssouci" means "without worries", so this walk should rather serve as relaxation than a cultural duty. 
 Just take a stroll and have a closer look at the castle and all the other interesting buildings spread all around it in the park, for example Neues Palais presenting itself in a very majestical way. 
 Personally, my place to be in Potsdam is Café Alex (there is also one in Rostock at Neuer Markt). It is central and has a great range of food and drinks. I would also recommend Daily Coffee, which is situated right at Nauener Tor, not far from Brandenburger Straße. So, after having discovered the most interesting parts of Potsdam, you should just take your time and try to feel the flair of the people and their city. If you like to go out at night, you should try Nachtleben or even Waschhaus.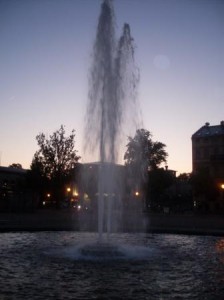 You may decide to spend a night inPotsdamin order to visitBerlinthe next day, which is a very good opportunity.Potsdamis only about 30 kilometers away fromGermany's capital. To make sure that you cover all the must-sees inBerlin, you should surely do a sightseeing-tour by bus, because there are just too many places to go. The same actually counts forPotsdam, as well, and it is a fantastic chance to see a lot of places in a relatively short time.
 You should definitely try it!