If you're looking for a unique place to eat, I highly recommend Albert & Emile. This wonderful little restaurant is located in Rostock's Östliche Altstadt and really has something to offer.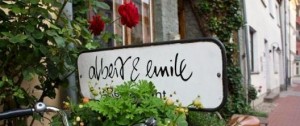 Albert & Emile combines French cuisine with local products from non-industrial companies.
The restaurant is inside a house from the 16th century. From the interior to the tableware, and even a look into the kitchen,… everything  just fits the impression of a lovely little restaurant. The entire furniture, and also the tableware, seems to be mixed and matched, but is definitely well-chosen. There are drawings, paintings and beautifully framed mirrors on the walls. Also there are lots of little details rounding out the picture, for example there is a very old sign telling the restaurant's visitors to walk carefully because the floor has just been polished. All this really creates this cozy atmosphere Albert & Emile is known for.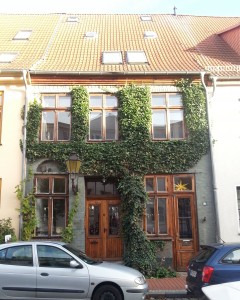 The owner of this wonderful restaurant really does cook by himself. Yet he always finds the time to welcome his guests and even have a little chat with them. He also gets really passionate talking about food and France…
 One time I've had artichokes with aioli as an appetizer at Albert & Emile. Apparently it's not very common for locals to try artichokes or if they do they don't know how to eat them. When Frank, the owner, later came to clear the table (yes, he does not only help in the kitchen but sometimes even serves his guests himself!) he was close to tears because our plates looked "just like in France". Later that evening, when we left the restaurant he came to say good-bye and even asked whether I've had been studying in France or how come I knew and liked French food. 
From 11.30am to 1pm (Tuesday to Friday) Albert & Emile also offers Lunch. Usually there are two dishes to choose from at lunch time. There is always some salat and free water included. 
Today I had Lunch at Albert & Emile. Again Frank came to welcome us and right away and brought us some salad with bread. We've also been served an appetizer and later on the main course. At last we had a little dessert (delicious self-made lemon sorbet) with a coffee for only round about 9€. The courses come in small (…some would even call it tiny) portions but each and every one of them was delicious …and made with lots of love.
So if you're looking for a place to eat, try Albert & Emile. It's really worth it!