Have you ever imagined how people used to eat 600 years ago? Have you ever wished to forget all your etiquette while you are eating?
Well,the Mittelalterschänke Petrikeller in Rostock can make your wishes come true.
 As you enter the Petrikeller you will pass the suits of armor standing in the corners and will find yourself thrown back to the Middle Ages. The waiting staff receives you dressed in colorful garments and is equipped with medieval instruments as a lute. They will welcome you with an antiquated but friendly language. When you make yourself comfortable on the raw wooden benches and the tables which seem to be made from one piece of wood, you will definitely recognize the small holes inserted into the tables. In these holes you place your clay jug from which you drink.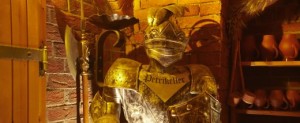 After you made yourself comfortable you take a look on the medieval menu. The selection of meals ranges from a good and solid soup served with bread and lard to the best cut of the meat served with sauerkraut and potato. Don´t be confused when you can´t find your fork: nobody gets a fork in the Petrikeller. For eating you will be equipped with nothing more than your fingers and a knife. This can become very funny especially when you try to drag up your cabbage with your knife and recognize that your fingers are much better suited for this task. But don´t panic, the waiting staff will come along with a large bowl of fresh water in which you can wash your hands. In addition, the bathrooms don´t have the standard of the Middle Ages.
While you are enjoying your meal and the freedom of fork-less eating, the staff will entertain you with some archaic singing and dancing. Before you take out your Thalers, which surprisingly equates the Euro, to pay; you have to play a game of dices and if you are lucky you will even not have to pay for anything.
The Petrikeller is a special place and worth a visit not only because of the medieval atmosphere but also because eating together will become a great experience. It is fun to enjoy the meals without the usual cutlery with a group of friends or family and to literally break the bread with them.