One of the many things Rostock is known for is its proximity to the Baltic Sea. And those of you who have been to Rostock or those who live here know that with this fact comes a strong and at times bothersome amount of wind that is known to mess up your hair or kill 2 or 3 of your umbrellas a year. But the combination of those two elements attracts a certain kind of people: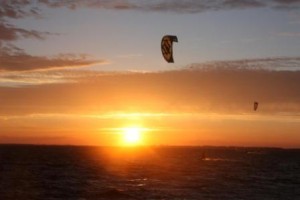 Surfers.
Rostock's surrounding area harbors many surf ''spots'' that claim considerable popularity among surfers, especially now, during the summertime. Nowadays, there are many forms of surfing, but seeing as there is a limited amount of waves here, windsurfing and kitesurfing are far more popular than the standard kind. In particular, kitesurfing has gained a lot of popularity these past years and is now even more prominent in a lot of regions than windsurfing. One advantage kitesurfing definitely has over windsurfing is the more compact materials and the greater agility while surfing. For those of you who might not know what kitesurfing is, here a short overview:
Kitesurfing is a water-based extreme sport that utilizes the power of the wind to move the surfer or ''rider'' across the water on a small surfboard.  That usually requires a surfboard, which is either similar in shape to a wakeboard (called a Twin Tip) or similar to a regular surfboard (in that case called a waveboard), a bar which denotes the lines that connect the kite to the surfer, and of course the kite itself. Kites come in all sorts of shapes and sizes depending on the rider's weight, ability and the wind strength. Usually, you distinguish between C-Kites (shaped like a big C), Bow-Kites (shaped with a shallower arc than the C-Kites), Hybrid-Kites (a mixture of C-Shape and Bow-Shape) and Delta-Kites (made with a revised Bow-Shape).
''Spots'' are places where the ground and wind conditions are good enough for a rider to kite. And, as already mentioned, Rostock has lots of them (as shown in the map below).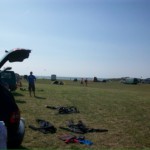 Whether you are a surfer yourself and are looking for a good spot, you've never kitesurfed before, but really want to learn, or you'd simply like to watch the really impressive tricks some of the riders perform, this is the right place for it.
Mecklenburg-Vorpommern offers a great number of surfschools. Courses are fairly expensive though, and a beginners course (2-5 days depending) costs between 200-300 Euros. But if you are seriously thinking about learning how to kitesurf, a course is absolutely necessary.
Kitesurfing does not only look impressive and exciting, but is also very dangerous even for professionals. Because of sudden wind gusts or the simple mismaneuvering into the 'powerzone' (usually a kite is flown in a slight angle to the direction of the wind, but to increase pressure, e.g. for jumps etc., the kite is redirected so that the wind and the kite are perpendicular to each other; this zone is called the powerzone, and under normal circumstances, the kite remains in this zone only for split seconds), people can be carried of and dashed against water, buildings, rocks, power-lines and other objects. So do not, under any circumstances, attempt to learn this on your own, instructed by inexperienced personnel or without adequate safety measures.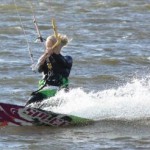 But inspite of its dangers, kitesurfing is one mesmerizing sport that, once you start it, will become impossible for you to stop. As soon as you've learned the basics and set foot into the kitesurf community, it is fairly easy to find experienced surfers that will support you in your further learning process. Kitesurfing is an expensive sport to get into, but gets considerably cheaper once you know your way around the community.
Even though, surfing it's just you and your kite, Kitesurfing is not a solitary sport. Kitesurfers support each other, help each other out, look after one another, and always have a good time together.
So if Kitesurfing could be something you might like to see or even try out, just go to one of the kitespots or a kite school and take a look for yourself. There are also several different kite events throughout the year that you might be interested in. One of these events is the 'Zuparken', which takes place every year around June in Kaegsdorf. If you weren't fortunate enough to catch it this year, but don't want to wait another one, you also have the option of visiting various other events outside of Rostock.
A recent event, though not in Mecklenburg-Vorpommern, is the ''Beetle Kite World Cup 2012'' in St. Peter Ording taking place from the 6th of July until the 15th of July. It attracts over 150.000 visitors each year in addition to the sport competition supplies a range of live music acts and other attractions.
So just take a look and let yourself be caught in a world where time has no meaning and the sky is the limit – I know I have.