The Schusters Beach Bar, situated at the shore of Warnemuende, is not an insider's tip anymore and hasn't been for some time. Quite the contrary; Schusters is one of the hotspots in Warnemuende, especially during the summertime. The bar is hard to miss as it looks like a huge cube with its practically non-existing walls, for they are completely covered in windows. The whole interior design is very young, sharp and modern, characterized by an excessive use of LED lights, round glass tables and cream coloured lounge chairs.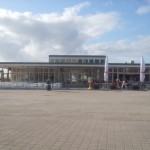 With our first impression being that it looked quite expensive, we were a bit reluctant to go inside. But ''nothing ventured nothing gained'', so besides feeling a bit out of place because we were dressed rather casually, we were eager to see if the quality of the beverages would uphold the expectations raised by the exterior.
In addition to the option of taking a seat inside, Schusters presents you with the opportunity of sitting outside in a sort of Beach Garden with an amazing view out to the sea. The garden is particularly popular at sundown when the fires are lit outside and people almost fall over each other to gain possession of one of the huge comfy beach beds from which to watch the sun set.
We decided to take a seat inside as we were not sure it was going to stay sunny judging by the huge and worryingly dark clouds that seemed to be approaching very fast. Finally inside, we decided pretty quickly on what we wanted to order and tried to signal the staff to take our order. The staff is young and, for the most part, welcoming, but at times appeared to be rather indifferent to their customers. We nevertheless managed to order, and our drinks arrived in an adequate amount of time (It was a slow night though).
An unusual problem that we had with Schusters Beach Bar were the chairs. Beside the point that it is practically impossible to get one at dusk, the height of the chairs is a whole other issue. For some unknown reason, the chairs inside the bar are very low. It's probably thought to support the whole ''lounge feeling'' of the place, but it ended up making our night oh so very funny; the chairs were so low that the coffee table came up to the collarbone and, rather than the laid back lounge atmosphere, made us feel like we had joined Papa Smurf for dinner. I didn't just make us look kind of amusing, but also made drinking the cocktails a very adventurous undertaking. We were just glad that we did not order any food because that may have exceeded our gymnastic abilities. The cocktails themselves were very good, but at the same time very pricey. A plus is that if your cocktail does not suit your taste, you are able to tell the staff and they will have the bartender adjust the flavours a bit more to your liking.
Overall Schusters is probably not a place that I would choose to visit regularly (I'm a student and just can't afford to visit places like that a lot.), but it's a nice place to treat yourself to great cocktail and Cote d'Azur atmosphere every once in a while.