I'd like to tell you something about the best football club you could — to my mind — find in the world. This club is called Hansa Rostock!
Hansa Rostock is more than just a football club to me. It's a part of my life and part of who I am. For as long as I can remember, Hansa Rostock has always been around. I grew up with this football club around me every tiny moment. This club is part of many beautiful memories of my childhood. I can even remember the day when I took my first steps into the "Ostseestadion", the place where Hansa Rostock plays. The moment I saw the pitch for the first time and all these people clapping and singing just because of Hansa Rostock. The moment when you realize that they'll always be there, no matter what happens. For many people here, Hansa Rostock is a part of their family. It's kind of magic- once Hansa always Hansa. I can't imagine a life without football, but even less so could I imagine a life without Hansa Rostock. Since sitting on my daddy's lap every weekend to listen to the Hansa matches, I have never been able to let it go far from me again; I was raised with Hansa Rostock always around; and guess what is best?! I'm unbelievable proud of it! I'm so glad I could answer the question:  "What is the best football club in your mind?" proudly and without any doubt with: "Hansa Rostock is the best football club you could find in the whole world!"
When you're Fan of this club it's not just about winning or losing, there is a whole lot more! Where I'm from Hansa Rostock is a part of your life! This club accompanies you every day. Most people here would give the shirt off their back for Hansa. Hansa Rostock stands for home, love and passion!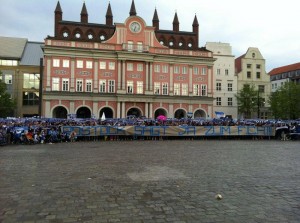 Not many here could imagine a life without Hansa Rostock. But exactly this is the problem. Hansa Rostock has got debts, debts they're not able to handle alone. The reason for these debts is missmanagement. Hansa Rostock played in the "Bundesliga" (the premiere league of Germany) 12 years ago. But Hansa was not able to effort the funds for this league, because it's a very small club. They started spending money they didn't have. In Addition to that there had been some poor transfers, so they had to remargin a lot of taxes. The people who made these mistakes buzzed of very quickly. Now, 12 years later, Hansa Rostock has to come to terms with the past. Because they can't handle all this problems alone, they need financial aid.  That's why they asked the city Rostock for help. Everybody thought they would say "YES" immediately — but they didn't. That's why my lovely football club could simply have disappeared on the 9th of May. No one is able to describe the feelings we had because of this fact. We would lose everything- our traditions, memories, heros…and presumably a part of our life! I don't want to hear anyone say: "For god sake, who's Hansa Rostock?" What I want to hear is: "Hansa Rostock? You're the guys from the Baltic Sea, aren't you?" It's not just me that thinks this way. That's why the fans of Hansa started a campaign called "Sag JA zum FCH!" ("say YES to the FCH").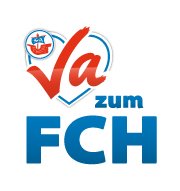 I'm impressed by the huge number of people trying to help Hansa Rotock. Many People all over the world participated in this campaign. Of course, there are always two sides of a coin and I'm pretty sure there are good reasons for the city of Rostock not supporting Hansa Rostock. To deliver insight into the pro and cons of supporting Hansa Rostock I'd like to give you some Facts;
–          Hansa Rostock is the soul of Rostock and it clearly belongs to Rostock. If Rostock lost Hansa, it would lose a part of its identity as  well
–          Many of the inhabitants of Rostock would lose their source of love and passion.
–          Hansa is important economically. Every year they pay millions in taxes.
–          Hansa Rostock is a popular label of Rostock and Mecklenburg-Vorpommern. That means Hansa is an important marketing factor for the region.
–          Hansa is involved in work with children and teenagers. The football academy of Hansa Rostock is known everywhere in Germany and is one of the bests, producing players such as Toni Kroos (who plays for the national team of Germany)
–          Hansa provides  lots of jobs
–          Hansa is more than just a football club. It was founded in the year 1965. It belongs to the identity of the people living here. Furthermore, Hansa connects a lot of people spanning over generations and origins
CON:
–          The city of Rostock has got a lot of debts itself
–          They are afraid that Hansa Rostock may become a bottomless pit
–          Other companies with debts don't always get money to save them
–          It's Hansa's own fault
–          Some fans creat a negative images of the region
Hansa Rostock belongs clearly to the soul of Rostock and the people living here in a special way.  It's hard to describe the love a lot of people do have for Hansa Rostock. You can get a tiny clue of it if you visit the "Ostseestadion" and watch a game.  Since 2007 the official name of the stadium hasn't been "Ostseestadion" anymore. In the year 2007 Hansa Rostock had to sell the name of the stadium because they needed the money. That's why the official name is now "DKB-Arena". Nevertheless, nearly everyone here calls it "Ostseestadion" , which means "Baltic Sea Stadium". That means the name of the stadium is connected to the region as well. To my mind, it's because of traditions and habits. Form 1954 till 2007 people had been used to the name "Ostseestadion". Hansa Rostock is a traditional club. That's why no one here will ever get used to "DKB-Arena".   Even on the street signs you can still find the name "Ostseestadion".
I'm sure you won't regret visiting the "Ostseestadion"! Or see all the big pictures by following the campaign, if you're not able to come to see a match.
So please keep your fingers crossed that Hansa Rostock can be saved and that you get the chance to get to know this amazing football club 😉
Greetings Anika Lundschien