Hello travellers! 🙂
Are you on the lookout californian cuisine in beautiful Rostock? I know the perfect place for you! 🙂
Visit the "Old Western"!!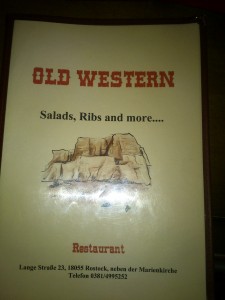 There's another blogg about the Old Western on this page, so just pay a visit there too! (Old Western by Juliane Timm)
The parents of my roommate came to visit her last weekend and they decided to go out for dinner with us. Yes, being the best friend has it's pros! 🙂 So we got into the car and straight to a restaurant. Eating at the expense of parents is always good!
Because I celebrated my 21. birthday the weekend (yeah…I am allowed to drink alcohol in the USA ;)) I got to pick the restaurant and I  chose the "Old  Western" in the Lange Straße in the center of Rostock. (You can take the tram lines 1,2,5 and 6! Get off at the station "Lange Straße")
I've already been to the "Rosmarino's Steak House" in Rostock at the Stadthafen. The Steak House is really good, so I was very curious whether the Old Western can convince me as well. I wasn't disappointed. Far from it! I was thrilled! 😉
The staff was super-friendly, funny and very obliging. I felt very comfortable there. The Old Western is a 2 storeyed building (quite big) so you probably won't have any problems to get a table.
And you should try it! Believe me the food is really tasty! And the deal is generous as well. I promise you won't be hungry afterwards. 🙂
For a starter we ordered deep-fried onion rings with a tasty garlic dip. Yum yum! (But don't eat too much otherwise you won't be able to finish off your main course! )
The Old Western offers a range of different salads, ribs, soups, fish, burgers and steaks. It was really hard to make a decision because everything did sound so very good.
Finally I decided for "Dakota Stir-Fry": beef with fresh vegetables, garlic bread and baked potato with sour creme. (No, I didn't eat it up…that was way too much! But that didn't matter. I just asked the staff to wrap it up for me –> so another tasty meal for the next day ;))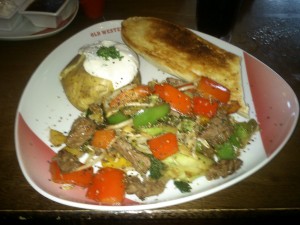 My roommate chose ribs. Well, they looked appetisingly too just as the burgers did! You can convince yourself. Doesn't that look mouth-watering?
Let's talk about the prices which vary a lot. You can get soups and starters for 4-5€, salads cost about 3-5€. There's also a salad bar upstairs. Steaks are of course a bit more expensive: 11-30€. For 10-18€ you can order ribs or burgers.
But it's worth the prices! If you want a really good meal stop by and convince yourself!
All I can say is that I had a really nice evening and a tummy full of delicious food! 🙂
Greetings from Frauke Hahnen