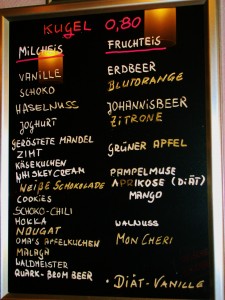 I recently witnessed something really shocking that I'd never thought could ever happen. Is the world falling apart? I was standing in "Die Eisdiele" (an ice-cream parlor) in Warnemünde thinking really hard what kind of ice-cream I was going to devour when I heard a woman say to her friends and the waitress: "NO! You go ahead, but I don't like ice-cream!" I'm not making this up. I am utterly serious! Who doesn't like ice-cream? The feeling of a – I can't even describe it really – a chilly, flavored, soft something, well, you know what I'm talking about! Ice-cream – it doesn't only make children's hearts flutter, it makes you cool down on a hot summer day and is simply one of THE greatest inventions ever.
Anyway, still shocked, I hadn't decided yet which ice-cream to take. I already felt the annoyed glances of the people waiting in the queue urging me away from the ice-cream they themselves wanted. But honestly, there are 28 different flavors, so it can definitely take a while to decide on the ideal ice-cream, wouldn't you agree?! Hmm, I'd already had cinnamon, grandma's apple pie, cookies and white chocolate before – which were really good, so it had to be something different. I noticed that there were even some more flavors not on the menu such as strawberry rhubarb. (Reminding me that I haven't made one of my favorite desserts this year – rhubarb apple crumble, with vanilla ice-cream, of course. I do have to keep that in mind!!) As I could feel the glances drilling into my back, I finally decided to go for Mon chéri and Blood orange – what a taste experience. The sweetness of the cherry liqueur combined with the chocolaty Mon chéri and mixed with the freshness of the orange – yummy!
But where to find this extraordinary ice-cream parlor? It's in Warnemünde at the promenade where all the little shops, cafes and restaurants are –you can't miss it really. It stands out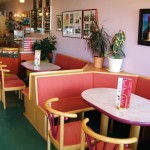 from all the other shops due to its orange seats outside and it also looks quite inviting on the inside. Another difference from other cafes is that you aren't served if you want to stay inside and have a sundae. You have to order at the counter where they prepare your sundae right away and then you can take it to your seat yourself.
So, if you love ice-cream and if you want to share that amazing taste experience with me, just drop in at "Die Eisdiele". As for the "NO-I-don't-like-ice-cream" woman, she doesn't know what she's missing, and as for me, well, I am already thinking about which flavor I will try next. Maybe I'll go for chocolate chili. Which one will you have? 🙂