One of the most amazing things of Rostock is that it is close to the Baltic Sea (probably the reason why this webside is called "Baltic Sea Backpacker Tips 😉 ).
It only takes you up to 30 minutes to get from the city center to the lovely Warnemünde, the gateway to the Baltic Sea.
Warnemünde is one of the favourite places of the tourists. You will find lots of hotels, bars, shops, restaurants…. It is always quite crowded, especially in summertime. So allow extra time to blaze your trail to the beach! 😉
That's why it's also a little bit more expensive than in the city center, but it's definitely worthwhile!
But in no case miss the "Schusters Strandbar"! When you have a look at the pictures you will know why! 🙂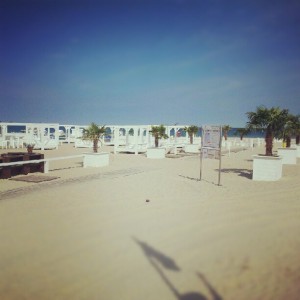 But what's to special about this bar? Well, it's location of course and it's huge offer of drinks!
For example: Cocktails, Highball and Longdrinks, Beer, Fancy Drinks, Rum- and Caribbean Drinks, Froze Drinks, Hot Drinks and lots more. Just have a look at this page.
As you can probably imagine, the drinks aren't that cheap. Cocktails cost about 8€.
What we think is delicious are the Frozen Daiquiris! You have to try it, especially on hot days it's a nice refreshment.
In the afternoon you can have a tasty ice cream or a piece of cake.
This location is suited to have a nice, relaxed afternoon and evening with your friends. It's also perfect for watching the sun set.
There's an inside and outiside area. You can marvel at the bartender mixing the whole range of different drinks.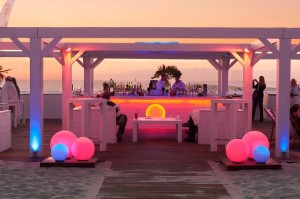 What makes this Strandbar so extraordinary?
You can lay in canopy beds (yes you read right…that probably sounds strange but there are really beds at the beach!)! With pillows and blankets you can make yourself very comfortable.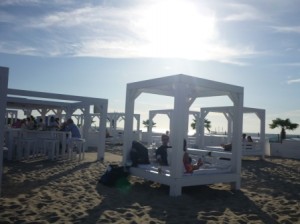 When it's dark you've got your personal starry sky in your bed. And trust us, that's more than just romantic! 😉 That turns it into the perfect place for a date. So if you want to impress your date this is where you have to go! 🙂
If it's getting very hot (;)) the water is not far away! Have a swim!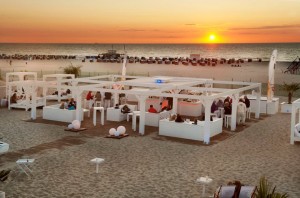 If you are visiting beautiful Rostock in summertime and want to have an   unforgetable evening at the beach, don't miss Schusters Strandbar! You won't regret it!  🙂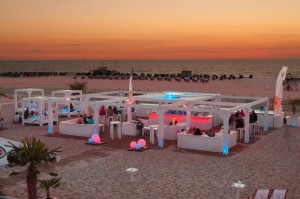 Greetings from
Anika Lundschien and Frauke Hahnen