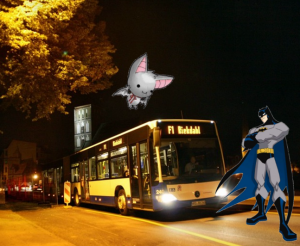 Imagine this: you are riding a bat at the dead of night, or even better, you are "Batman" yourself!
Now you're confused, aren't you? You might doubt the possibility of such a thing. Tut-tut! IT IS POSSIBLE! In Rostock you can ride a bat every night. You've got the chance to catch one every single hour! Just try your luck! But you have to be very careful because these bats are no ordinary ones. They've got lights, a lot of seats and they're mechanically powered.
All joking apart, I'm just talking about the buses called "Bats" in Rostock. These buses are only active in the night, which explains where the name "Bat" stems from. You usually can't travel by bus or tram in Rostock at night. So the question is, "How can I get home after a long night full of partying?" When you're tired of dancing and – especially regarding girls- wearing uncomfortable shoes, it's the most important thing to reach your lovely bed sooner than your shoes could have allowed you. That's precisely the moment when the "Bat" will become your hero! Except for taxis, the "Bat" is the only way to get home in the night. And the best thing? The "Batmobile Bus" is much cheaper than any taxi! For one ticket you'll pay 1,80 € AND you can catch the "Bat" nearly everywhere. There are a lot of stops all over the city. It's most likely that there'll be a stop where you are. There are two different "Bat" bus lines , the F1 and F2. You can take the "Bat" in four different directions, so make sure you take the right one. Just have a look at the link to check the stops and departures.  
I hope you'll soon enjoy your first ride on a "Bat" and don't be afraid these bats usually don't bite…I think 😉