What do you normally do with potatoes? You boil them, you peel them, you make chips and crisps out of them and most of the time, you just use them as a side dish.
But the kumpir house does much more than this; the kumpir house makes the most out of potatoes. Kumpir is a kind of "baked potatoe", but not just salted or with sour cream, it´s  made with loads of different toppings and sauces. 
If you want to see how a Kumpir is made, follow this link.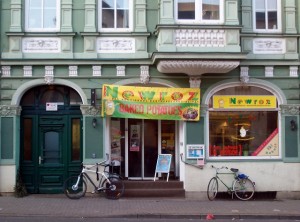 You can choose between different toppings or have one out of the menu.   My favourite is "Kumpir Capris"—the kumpir is stuffed with chicken breast, cheese, lettuce, cucumber, tomatoes, corn, mushrooms, rucolla and parmesan. Of course you can add a topping or leave one out. A kumpir plus a drink will never cost you more than 7€, and if you have a student ID, you´ll get a 15% discount – just show it before paying.
If you decide to eat your kumpir inside the kumpir house, take a look at the walls. They are full of pictures from the Middle East, and they are quite impressive. If you want to get more information, just ask the staff; they are very friendly and happy to tell you more about the house and food.
Do you still think that you will feel hungry afterwards? I promise you, you won´t! And you will see  potatoes  in a new light – not just as a side dish, as a main course 🙂