Neubrandenburg
Something you definitely have to do while staying in Neubrandenburg is experience the wonderful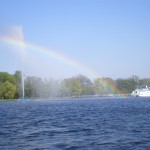 Tollensesee (remember to stress the second syllable) in its various facets. You really have to go on the bike tour (rent a bike here) around the lake (about 17sqkm) on a summer's day, which takes 3 to 6 hours.
In addition, enjoy swimming in one of the cleanest and most beautiful lakes in Mecklenburg. There are several lidos like the Strandbad Broda with sandbanks, areas for children and beach volleyball or the Augustabad with a beach restaurant and a wonderful view of Belvedere, a building in the shape of a Greek temple.
In its current shape, Belvedere was constructed for the Grand Duchess Marie of Mecklenburg-Strelitz. Originally, the building was closed, with a richly ornamented stuccoed ceiling, a chimney, a small kitchen, and a small chamber. After World War I, the outer walls of the temple were torn down and used as a commemorative place for the fallen soldiers with a wide esplanade (which the SA misused during the Third Reich). After gradually starting to decay after World War II, it could finally be renovated in 1995 and is used today as a public hall for concerts and theatre performances as well as for weddings. Once you climb the stairs, you get an awesome view (ital. "belvedere" fixed expression for "beautiful view") of the Tollensesee and the city of Neubrandenburg.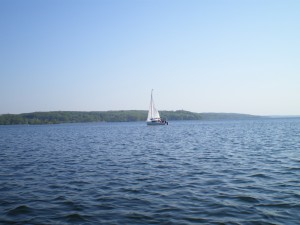 You have the options to go sailing, windsurfing, fishing and boating, something I strongly recommend as it's incredible fun, especially with friends and family. Here, you can rent a boat from May to October, Mon through Sun, from 10am to 7pm. They offer rowboats, motorboats, pedal boats as well as bikes and go-carts. You can't find any prices online, but when I went rowing with my brother and sister, we paid 5EUR for one hour, so it's really cheap. Don't miss it!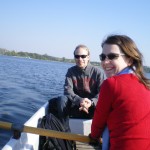 If you love go-carting, there is a race track nearby. See a photo here, where you can also find information about prices and how to get there.
Neubrandenburg also has an airport in Trollenhagen which is used for sightseeing flights for tourists. If you are interested in getting a fantastic view of Neubrandenburg, the Tollensesee and the surrounding area, the "Flugschule Neubrandenburg" offers daily flights from 9am to 5pm (with good weather even until 7pm in summer). 15min costs 79EUR. On the website, you can get information about the different routes.
Toboggan run and Castle in Burg Stargard
If you happen to be somewhere near Neubrandenburg, don't miss out on the toboggan run in summer. It is located in the small town of Burg Stargard roughly about 10km South-East of Neubrandenburg and can be reached via one of the many bike tours.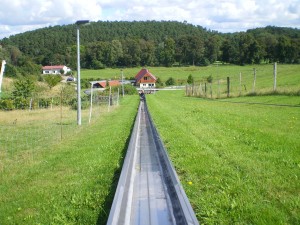 The run is 720m long over an altitude difference of 30m, it has 8 banked curves, one jump and two bridges. The prices are listed as follows: kids (3-14): 1.50 EUR (one ride)/8 EUR (7 rides), and adults (15+): 2 EUR (one ride)/10 EUR (6 rides). There is a special offer for families: 18 EUR for 8 rides (kids and adults each). The run is open from March till the end of October: 10am to 6pm daily, and in July and August from 10am to 7pm daily. You can even go riding at night and outside business hours upon agreement.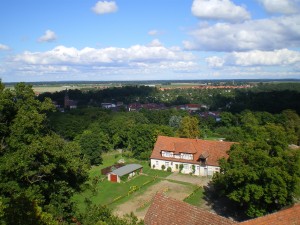 Once you are in Burg Stargard don't miss out on the castle "Burg Stargard", the town's landmark: it's not only the oldest secular building in Mecklenburg-Vorpommern but also the northernmost preserved castle in Germany. It is divided into an outer bailey and the main castle and consists of 11 preserved buildings. Visitors can climb the donjon and have a wonderful view of the surrounding landscape (you can even see the toboggan run in the distance!). You can do that from May 1st until September 30 from 10am to 5pm daily (except Mondays) and from October 1st until April 30 Tue-Thu 10am-4pm and Sat-Sun 1pm-4pm.