Hello to you!
Together with Ulrike Träger I've visited the Indian restaurant "Jyoti" near Doberaner Platz. We have found out a lot of information, so maybe this restaurant would be a nice place to go for you. It serves Indian food in every variety and a nice ambience for a diverting stay.
Staff interview:
Introduce yourself and your business to our readers!
"Jyoti (Indian for 'light/flame') is a restaurant with international flair and original Indian food for wallowers. We have been around for 7 years and offer food and drinks for young and old."
Why should people choose your place? What are special attributes?
"We offer our audience original Indian cuisine made by skilled Indian cooks. We also offer a lot of specialties, today's specials, a lunch menu from 12 am to 3 pm with vegetarian and non-vegetarian meals, one glass of wine for free for all ladies on Thursday, and Happy Hour (ALL drinks: cocktails, but also café, tea etc.) on Fridays from 9 to 10 pm. In winter we present you a belly dancer once a month."
What is the best time to come to this location?
"There is no special time; you can come to us whenever you want."
What would you recommend to order? What are your specialties?
"Like I said before, we serve a lot of different vegetarian and non-vegetarian meals and Indian specialties. You can choose what you like and hopefully enjoy it to the fullest."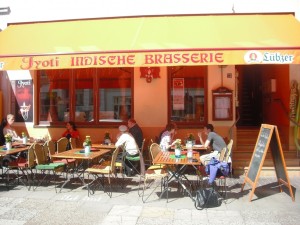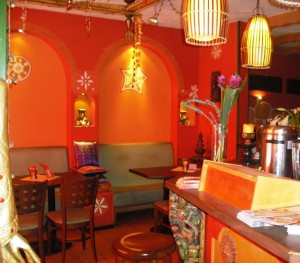 Customer interview:
How did you find out about this place?
"I have found out about this place by a recommendation of a friend of mine."
Have you ever been here before? – How regularly do you visit this place?
"I'm visiting this place up to 4 times a year and have been here before."
What did you order?
"I have ordered No. 85 (Turkey Tandoori Masala (7,90€)) and a Mango Lassi."
Easiness of finding this place?
★★★★★
Good location for future plans
★★★★★
Quality and friendliness of staff?
★★★★☆
Cost/Performance – Ratio?
★★★★★
Comfortable ambience?
★★★★☆
Variety of products?
★★★★★
Easiness of getting a table?
★★★☆☆
Something you want to add?
"As a German-speaking person it is sometimes difficult to communicate with the staff, because  not all of them are really familiar with the German language. But apart from that the Jyoti is one of my favorite restaurants in Rostock."
Overall Score:
★★★★☆