if you want to visit our beautiful region, you might be thankful for some information about low priced accomodation. As Mecklenburg-Vorpommern has the most impressive shore lines, it leads to sleep rough and to glance at the sunset on the beach. Therefore there are many possibilities which we want to mention, so you can have an extensive overview.
Camping:
Mecklenburg-Vorpommern has very clean and well equipped camping places. One of the best and most formidable organisations might be the Regenbogencamp **** and it is placed in many corners in MV. For example you can camp in: Prerow, Boltenhagen, Göhren, Nonnevitz and Born. I personally spend my holidays last summer in Prerow at the Regenbogencamp. I can only recommend it to you! I had a great time there!
The sanitary arrangements are very clean and there is a huge number of them so you just need to jump out of your tent and run as fast as you can 🙂 We camped directly on the beach so it wasn't far from the Baltic Sea. The water was clean and had a great temperature. In the centre of the whole camping area you can buy important equipments and eatables in a little supermarket. Also, you can go shopping in a cute surfing shop or in a souvenir store. Furthermore, there were planned activities for every evening like karaoke, rock- and popbands performances or movies on a huge silver screen.
Besides, there are a lot of other awesome camping places.
If you want to stay on Germany's largest island Rügen, have a look at the list at this page.
The island of Usedom is also very popular. It is divided into a German and a Polish part, so if you are there, you could make a little hop to Swinemünde (Swinoujscie), the biggest city of the Polish part of the island.
If you like the idea of staying there, just overnight in one of this camping places:
For other good Camping areas, check out this webpage!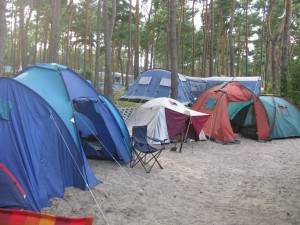 If you don't like camping, look at our blog about hostels, hotels and so on. We are sure you will find the convenient accomodation for you!