Classical juniper? Or preferably a flavour of Lemon? Berry? Herbage? Elder? Botanical?
Guess what I am talking about? You are right. Gin and tonic.
If, like me, you love this drink you should visit the "Stadtkind", a bar in Rostock. Why? Not only has this pub more than 70 different versions of gins from all over the world with the best fitting tonics but also it offers a rustic, familiar atmosphere.
Personally I love gin and tonic. The dry, bitter taste combined with a variety of flavours can make a gin and tonic constantly a new experience. The magic of a perfect mixture. The slice of an apple, the berries, the snake of lemon, the herbs inside the glass which offer a new sky of taste. Delicious. Unique. Surprising.
Let me tell you one thing: I was not always a huge fan of gin and tonic. This changed from that moment I walked inside the bar. Forever. I did not know a lot about gin nor tonic before I had my first visit. It was not a casual visit, more like a lesson. Not like a classical lesson at school; lesson about gin and tonic. I had fantastic guidance that revealed my love for the drink. I learned that gin is not simply a gin. And tonic is not simply a tonic. It can be magic.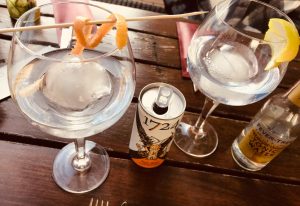 If you are not a huge fanatic of this drink, you should still visit the Stadtkind. From 5 to 8 pm you can enjoy the Happy Hour with a great variety of Mojitos and Caipirinhas. The bar offers great drinks for an affordable price, one mojito at the Happy Hour costs 4,90 euros.
Another reason to make a stop at the bar is the staff: I am not originally from Rostock nor from the North of Germany. This is why I always enjoy the typical Nordic character: the honesty, directness, ease, sometimes iceness and distance. All those descriptions probably sound a little rude. But this is not what I mean! They are different and it is quite hard to get in touch with them, what I mean is to find friends, but some say: once you have a friend from the sea you will never lose him/her. I am convinced that you should visit the bar to understand my impressions and compare them to yours, to enjoy a great evening in the side road of the centre of Rostock, to expand your horizon about drinks and especially to feel the magic of gin and tonic.
Stadtkind means a great portion of expertise about drinks, Nordic character, unforgettable evenings and new experiences.