Now that the lecture period of the university semester is coming to an end, I'm really looking forward to the summer holidays, although a long list of exams and essays await. Summer is by far both the most alluring season in MV and probably also the only time of the year when big city-dwellers look enviously at our state while they are roasted between concrete facades. It's the time of the year where I would prefer to never go to bed because the sunny coasts, countless rivers and wide lakes with all sorts of outdoor activities paired with refreshing drinks, tasty food, and good company are just so tempting that it's hard to stay home. Not to mention studying and preparing for exams.
For me it goes without saying that I have to go paddling on one of MV's many waterways at least once during the summer holidays. It became quite an annual thing between me and a couple of friends to stay true to this little tradition, and there is no region I could recommend more than the Mecklenburger Seenplatte. It's a lake district also commonly known as "land of the 1000 lakes" and the perfect region to soak up all of MV's rural beauty and pristine forests from the water.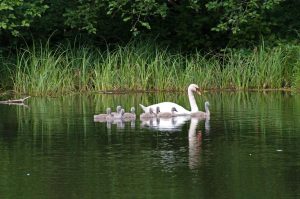 Planning a boat trip on the Mecklenburger Seenplatte is really easy and tourist-friendly. Usually, my friends and I look for a new challenging tour in the district every summer and try to escape from civilization at least for one week. We always start by renting our boats from one of the multiple boat rentals in the region. They generally hire out single and multi-seater canoes and kayaks; motorboats, too. Prices depend on the type of boat you're renting and how long you're planning to go. Therefore, they are ranging from €15 for a single-seater kayak to €35 for a five-seater canoe for one day and €10 to €20 for each subsequent day. Most boat rentals also offer a driving service to the starting point of your tour, which we always make use of because it's so much easier than bringing or transporting our own boats.
If you're planning to go on a multiple day trip, for example along the Schwaanhavel – for us the most breath-taking kayak tour in the district so far owing to its narrow water streets and bushy banks – you have to look for overnight accommodation. Wild camping is unfortunately not allowed in MV and if you get caught, you have to expect high fines from €50 up to €1.000. So, you have to find a campsite along your tour, which is equally easy as finding a boat rental (feels like there's one on every other lake). I found the campsites (see Campingplatz Naturfreund, Campingplatz Zwenzower Ufer, Kanu-Mühle) on the Mecklenburger Seenplatte to be very tidy and inexpensive with average prices of €8 to €10 per night and person.  They also offer fresh showers – very welcome after a long day with high physical exertion under the bright sun, believe me – and often a kitchen too. However, experience have taught my friends and me to take a gas stove with us anyway. Maybe also a good tip for you, if you tend to get hangry easily. Moreover, the campsites are very crowded in the summer months, so I would recommend calling ahead and reserving a campsite. We have always done well with this strategy.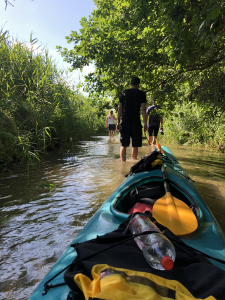 Now that we have spoken about boats and accommodation, the only thing left to think about is luggage. You definitely need a tent, sleeping mat, sleeping bag, mosquito spray, waterproof bags and light luggage. Personally, I found it very practical not to take too much food and snacks with me because there is usually a little store on every campsite that sells groceries like freshly baked buns in the morning, spread, snacks and cool drinks.
So finally, and with just a few preparations, you can be ready to enjoy this picture-perfect atmosphere of long Nordic summer nights. Imagine you are sitting with a cool drink by a crackling campfire right next to a mirror-smooth lake, the soft howling of an owl in the background and nothing above you but dark tree tops and twinkling stars. Surely you can now better understand my initial desire to stay up all night and experience that?