"We live in an area where others spend their vacation" is a well-known phrase to us "Insulaner" (a German word for "islanders"). But I have to admit that we maybe forget about the countryside idyll when we get used to it. I wasn't aware of Usedom's eclectic beauty until I had finished school and left my hometown many years ago. Now, when I return to this rural but lovely island every three or four months, I find myself in a seemingly different place—or rather my perception is different now.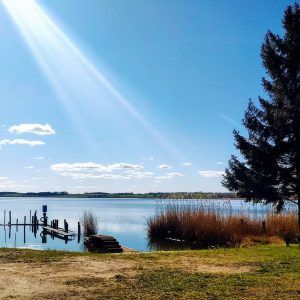 There are oh-so many small villages inhabited by a couple of hundred people only (or even less), sometimes only one road suitable for cars going in and out, and just a few houses with big parcels of land perfectly fitted for late-evening barbeques. This hasn't changed, but while I'd found it boring back then before I moved to Rostock, I take joy in it now; the tranquillity isn't boring but profoundly restorative. If you take a ride off the main roads in the summer, along the rapeseed fields by bicycle or on foot, you will drift into a romantic mood and inhale the enchanting atmosphere that bewitches your soul, makes you forget about all the worries you might have at that moment. For people also interested in social experiences, you can always visit the 'bigger' towns on Usedom with their tourist attractions, such as butterfly farms, a dinosaur exhibition, a kart race track, or a diving gondola. There are annual town and harbour festivals, harvest festivals and village fairs. Those attractions aren't promoted on a bigger scale, which is why it's much more local and often promoted by word-of-mouth recommendation only. And of course, we have the long, sandy beaches and dunes, linked with forests, reaching far and wide, clasping practically all around Usedom. Up and down the boardwalk, however, you'll find many small boutiques and stores and attractions with their own names; only a few owned by big brands or companies. For example, there is a cinema in Zinnowitz managed by the same people who opened it almost 30 years ago, a cinema where you can have food and beverages—even beer—ordered to your table while watching a film.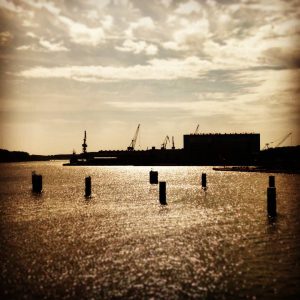 If you like historic towns with medieval flair you should visit Wolgast— sometimes called the gate to Usedom—that lies partly on the continent and the island. In Wolgast, you can explore the historic downtown of Wolgast, which is comparable to Rostock's with many half-timbered houses, narrow alleyways, a town wall still partly intact, and the Townhall square with a fountain in the centre of it that is framed by small cafés all around with comfy interiors and delightful solitude. Not far from there is the Evangelical St. Peter's Church of Wolgast, surrounded by half-timber framed residences decorated with ivy; medieval fairy-tale charm at its best, which is only surpassed by Germany's pinnacle of historic, medieval town representation: the city of Rothenburg, in Bavaria.
Within walking distance from the historic downtown of Wolgast, you'll find one of its harbours which date back to the 12th century when Wolgast was a trade and toll post. Now it's predominantly known for its shipyard: Big, blue shipyard halls tower above the lower downtown. When you pass it, you get an unusual impression of industrial atmosphere when steelworkers produce sounds of hammering, sawing, squeaking and cracking every working day. Two miles further up the Peene river you'll find barely touched nature, only occasionally occupied by private residences and small companies in brick houses and halls, reminding you of the Victorian-esque architecture with symmetrical facades of red brick.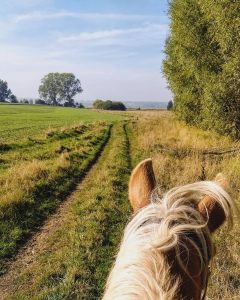 My personal recommendation is to park your car in Wolgast and just go on from there. Wander off on our little island, explore it by bike, train or even on horseback (horses are available at equestrian farms, e.g. at Hof Jaddatz). Not only will you do our nature a big favour by leaving the cars stationary on a parking lot but you'll also avoid any traffic jams (which Usedom is infamously known for during high season) and it's easier for you to find more intricately hidden places difficult to access by car, such as the remote and somewhat hidden lake between Neeberg and Sauzin, the coastal areas at Peenemünde or the nature preserve Südspitze Gnitz near Lütow.