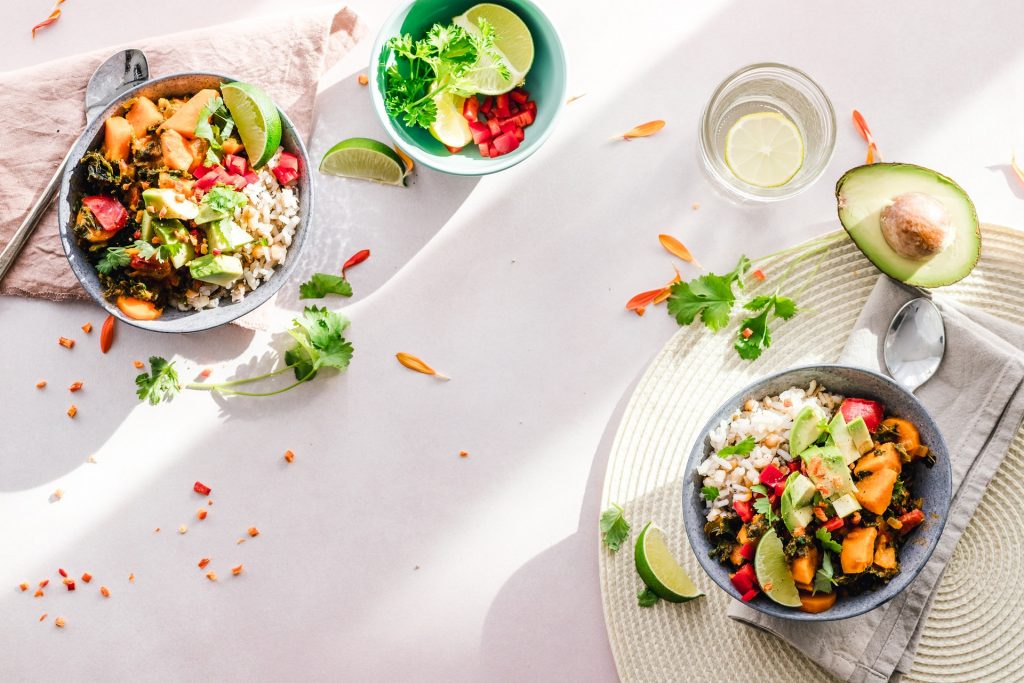 As the title suggests, this blog is about where to eat out as a vegan in Rostock. Cooking can be great, it can be a lot of fun and a nice social activity. But if you are on holiday, you maybe feel like treating yourself and therefore choose to eat out. Or maybe your are someone who doesn't enjoy cooking: for you it's maybe just one more chore around the house. Or sometimes, even if you like cooking, you just can't be bothered and just want someone to bring you food.  However, as a vegan, I sometimes feel it is more of an effort, more stressful and more complicated to find a nice restaurant with vegan options than cooking at home. Many restaurants claim to have vegan options on the menu, but let's be honest: a green salad with oil and vinegar doesn't count as a vegan dish. If I go out to eat, I want more than just a few greens. I want something that I wouldn't normally eat or make at home. 
In recap, I've probably wasted way too much of my time online searching for restaurants, hoping they've put their menu on the website. So now I'm here to help. I want to spare you my frustrating experience. That's why I made a list of my favourite restaurants and cafés around Rostock where you can get something to eat as a vegan. Many of them include vegan and non-vegan options, which might be a good thing if you are in Rostock with non-vegan friends or family. 
Let's start with my absolute favorite. Every time someone visits me in Rostock, I take them to this place.
Peter Pane:
I don't even know where to start, so let's start with the atmosphere. They have many wooden elements inside their restaurant as well as an artificial tree in the center. This, together with the dimmed, warm light, makes the inside very cozy. It's like sitting in one of those fairytale forests. It actually fits the name. They also have benches with cushions, which makes it even more cozy. If you go to the bathroom, you will hear the Peter Pan audiobook instead of some lame music. This really ties in with the overall atmosphere and topic. Oh, and you can also sit outside, but this (unfortunately) isn't any different than sitting outside any other restaurant. That's why I prefer to sit inside. 
But enough of that, let's talk about the food. If you go to Peter Pane, I really recommend you try their Burgers. They have some with meat but also vegetarian and vegan ones as well as a breadless burger (which is great if you have a gluten intolerance). In total you have four vegetarian and four vegan options, and you can choose between different styles of bread: classic, whole wheat and sauerteig. From time to time, the menu changes, so it is definitely a good idea to go there more than once. Apart from Burgers, they also sell fries, salads and even vegan desserts. If something is vegan, it's marked with a little yellow v, which makes ordering so much easier. 
Another reason to go there is their lemonade. They have a homemade one, which I highly recommend you try. If you're feeling a bit more fancy, try one of their cocktails. I've honestly never eaten or drunk something at Peter Pane which wasn't delicious. Definitely check it out!
Another good place to go is Vegangster.
They are all about vegan food, as the name suggests. Apart from also selling Burgers, they sell Vöner. But "what's a Vöner", I hear you ask? So Vöner is a combination of the German words "vegan" and "Döner". A Döner is a very typical food in Germany, even though it's said to be Turkish. It's a piece of pita bread filled with a cale salad and other vegetables, as well as some kind of meat, usually veal or chicken. And a Vöner is quite the same but better: It's vegan! So you still have (quite) the same taste, but no animal had to die for it. Give it a try. Apart from that, you can also try out their soups and desserts. 
It's a rather small place, so many people order take away, but you still have the option to sit down. The restaurant is located in the KTV, at one of the nicer and more quiet areas of the city.  But in comparison to Peter Pane, this one is more suitable for take away. If you want a nice evening out in a restaurant with your friends, I personally would prefer Peter Pane.
Next option is pinky's.
This restaurant is mainly about Pizza, but you can also get Burgers, Pasta, and Snacks. They have vegan as well as non-vegan options. It's good if you either want to take you food with your or order it from home. During the spring and summer, you can also sit down outside, but there aren't many tables. But that's also the only slightly negative thing about pinky's. If you want to know more about why pinky's is so great, check out this post, which goes into far more detail then I've chosen here. (I would include a link here to the blog written by Sarah about pinky's). I would say pinky's is the best option to order vegan food. 
So last but not least: Sushilicous – The name says it all.
This restaurant is all about Sushi. Again, you can get vegan Sushi as well as the "normal" ones with fish. They also serve some soups and other things, but who visits a Sushi restaurant to eat only a soup? Sushilicous is a very small place, but absolutely great. The staff is very friendly. They are also very helpful if you are not sure what options and what amount to order. For me, this is always the most difficult part: estimating how many sushi rolls I will be able to eat. And if you've never tried Sushi before, it can also be helpful if the staff can maybe recommend you something to start with. This will higher the possibility that you will be as much a fan of Sushi as I am. I've only been there once. But it's honestly the best Sushi I've eaten so far. So give it a try!
In comparison to the other three restaurants, Sushilicous is a good option if you want to eat out with your partner or a friends. For more than three people take-away or delivery is the better option. 
If you feel more like having a snack, here are the bakeries/cafés I can recommend.
Daniel's
So there is Daniel's in the KTC. It's a small stand on the ground floor. They sell sandwiches and cupcakes as well as hot and cold drinks. Not everything is vegan, but they have some great options. I definitely recommend you try out their vegan chocolate cupcakes. They are delicious! 
Since this café is in the general food area of the shopping mall, you also have the option to sit down. But I personally don't find sitting down in the middle of a shopping mall very relaxing. That's why I take the food with me to eat on the go. 
One great thing about Daniel's is this: If you go there after 4 pm you might not have all the options available but you will get everything for half the price. 
Denn's bakery
Another option within the KTC is the bakery connected to Denn's. It's a bakery, so you get the usual things: bread and bread rolls, cake and muffins, tea and coffee, but they also have other great food. The main good thing is that every piece has little sign with it's name on it as well as a symbol showing whether it is vegan or not. This really helps me a lot: I can think about what to order while waiting and don't have to ask the sales person about everything. It also makes veganism less stressful and so much easier. Plus it also helps convincing other people that it would be a good idea to eat less dairy, eggs, fish and meat. People are more easily convinces if something appears easy and accessible.  But not if they see you having a 20 minute discussion with the sales person at the bakery about what to eat. 
During lunch-time, they also very often offer soups or a vegan burger. 
Again, it's in a shopping mall, so it's not as peaceful to sit down as it is outside. But here the area to sit down is not in the center but on the side, which makes it a little bit more quiet. 
A great bonus: they are an organic bakery. Definitely try out their bread. If you want something to eat right away, try out the vegan tofu sandwich. 
Törtcheneck:
If you have a bit of a sweat tooth, check out Törtcheneck. They sell mostly non-vegan cake, cupcakes and cake-pops (which I've heard are very good), but they also have one vegan cupcake.
I know, one cupcake option doesn't seem like the best argument to go there, but it's in a beautiful part of the city, the café itself is absolutely adorable and the staff is super friendly. So definitely give it a try.  
Those were all the Restaurants and Cafés I've tried myself. But there are more options available in Rostock. Here are two other Restaurants you can try out.
Heumond:
It's a restaurant near to the Universitätsplatz. It's a great place to sit outside in the summer. As said, I haven't tried any of the food myself, but many people have recommended this place to me. 
Grüne Kombüse:
This is one I really just heard about. Maybe give it a try and tell me if its any good. 🙂