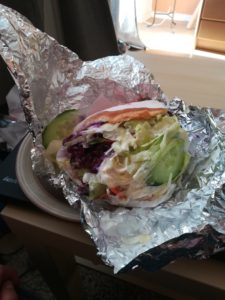 So, imagine you've been shopping all day and are exhausted. Your stomach's telling you for half an hour already that it's hungry, but you are too spent to go home and cook. For the most authentic German experience we advise you to go and get a Döner. The Döner was actually invented in Germany and since then has become basically one of the main fast-food options here. It is basically some meatey-goodness (or non-meatey-goodness) that makes your mouth water. Fast food that actually leaves you happy and sated instead of craving even more food.
Don't worry, we're back with life-saving advice to help you find the perfect Döner for your cravings and needs. So listen up and pay attention to our life-altering experience, pals.
Vegangster, at the heart of the KTV, offers a special kind of Döner Kebab: The Vöner, an all-vegan variation of Germany's favourite fast food. The restaurant also serves vegan burgers, organic sodas, fairtrade wines and craft beers. Very hippie-esque, but very tasty to back it.
The Vöner is wonderfully different from most other Döner Kebabs: The vegetables (tomatoes, cucumber, red and white cabbage, red onions) were exceptionally fresh, with the lettuce not – as usual – cut into shreds but the leaves left whole to fortify the edible mantle. Yet the crispy bread was stuffed with so much filling that it couldn't quite contain it.
The soy gyros is well-flavoured and pleasantly spicy. I can imagine that for vegetarians it comes very close to their memory of what real meat tastes like, if they're looking for meat substitution that is. As a meat eater, of course, there is a tangible difference consistency-wise. As the vegetables were so fresh and tasty, I would have loved for the gyros/greens-ratio to lean a little more towards the veggies.
Now, to the truly fabulous part: the self-made sauces! The fruity yet spicy tomato-chili blend especially is an epiphany.
The Vöner might not be the best döner I've ever had, yet due to its fresh ingredients and awesome sauces it easily makes the Top 3.
The Shin Shin's close to the Neuer Markt. I know what you think, Shin Shin, sounds more like a Chinese booth than a Döner place, doesn't it. Well, you're not wrong. They also serve Chinese food.
Nevertheless, they do actually serve Döner there as well. Even if it's not as prominently shown as the Chinese food. You can choose between several kinds of Döner, like a veggie one or one with extra meat. Though they do not have different kinds of meat, just the usual. Which is veal.
But if you're going for the traditional Döner anyways, you won't have a problem. A big plus, contrary to other vendors, at Shin Shin's they fill your Döner up until it almost bursts at its seams. The flatbread is quite crispy but not to the point of breaking and tasting like you have your mouth full of dust. The Döner was filled to the brim with meat, red cabbage, white cabbage and salad. The vegetables always fresh and delicious. The best thing though is this fantastically sensuous sauce.
I usually don't like to praise something, I don't feel comfortable with praising stuff, but oh my lanta the sauce … the sauce was incredible. You can choose between garlic, spicy and also curry. I usually avoid spicy, so I can't judge that one and instead enjoyed the curry sauce. This. Was. Heavenly. Fruity and perfectly balanced to the taste of the Döner itself.
The vendors are always nice and sometimes like to joke with you. Sadly there's no space to sit down, so you better take your Döner to go and eat at home. Still, this fucking awesome Döner is totally worth the wait. Just try not to drool in the tram while getting home.
Price: €4.50for the normal Super Döner. (Definitely worth it and you're actually getting your money's worth. Trust me.)
Sterngrill is probably one of the most well-known kebab restaurants near the city center. Nearby is the Dobi-Döner, which is the place to go at night when you get hungry after partying. But it's no real competition 'cause the Döner tastes best when you're drunk.
When you get into Sterngrill, you are welcomed by the mouthwatering smell of kebab and Turkish tea. It also feels like entering a sauna with 100% humidity which seems to be a normal feature of every kebab restaurant I know even though I have no clue why.
The first time you get there, you may feel overwhelmed by the range because you can get a normal kebab as well as a whole chicken (I learned that it's called "Broiler" in Rostock) but you can also get salad, french fries and everything else your heart desires.
The regular thing to go with is probably the Döner. You can decide if you want to have meat or not. You also have the choice between chicken or veal. You can chose from four different sauces and even more choices of vegetables even though you have to pay 50 cent extra for it excluding salad, onions, tomatoes and red and white cabbage. Tipp for saving money: buy the regular Döner and add the topics you want at home.
The staff is really nice, and after a few visits they recognize you and know what you like. It creates a really familiar atmosphere.
Don't worry if you see a police or an ambulance car in front, it's not because something happened it's just that they stop there to enjoy a kebab themselves: Basically a key sign of quality.
Price: €4,50
Himalaya – Grill & Curry Haus
Next on our list is the Himalaya Grill and Curry House. Just like the mountain range, the restaurant sticks out of the rows of houses and can be seen from afar due to its colourful facade and distinctive appearance. The Himalaya offers a wide range of specialities stretching across the Eurasian continent. The menu includes dishes from India, China and Nepal, which add to the usual fast food ensemble such as pizza, burger, and kebab. For the purpose of this blog, I decided to go for a normal chicken kebab. As I was entering the location, the shop appeared to be empty and I was wondering whether the place was actually open. But soon enough I had found my way to the counter and was greeted by a surprisingly young but very accommodating waiter who also brought me the food after a few minutes of waiting. There are a number of seating possibilities; I went down the comfortable route and took a couch. But to the essential part now: I am used to wishy-washy kebab, but I wasn't let down this time. The salad was excitingly fresh and crisp. The chicken had not been cut down from a spit; the meat was presented like little dice, so in a cube form with a strong curry note (as the name of the house suggests). That's something different. The bread seemed a bit dry and floury to me but with a little more sauce it's easy to chew down. I had to read a book for Uni while eating, so the relaxed atmosphere helped with that. People sat outside, upstairs and downstairs. Everyone was having a nice, undisturbed lunch. You can find the Himalaya in the Friedhofsweg 7, just two minutes on foot from the famous 'Dobi' or Doberaner Platz.
Price: €4,80