Looking for a fun activity in Rostock, you don't have to stick to the common things like going to the cinema, hanging out in a park or partying. Have you ever thought of playing table football? Table football is a great activity to combine the excitement of a football game with dexterity and tactics – just indoors.
Up to six times a year the voluntary association "Viva con Agua" organises a table football cup in the club "Bunker", located in Neptunallee 9a in Rostock. It doesn't matter whether you are a pro or an absolute beginner – this tournament wants to spread fun among all the participants. The entry fee is 3 € and all money goes to drinking water projects for countries in need, as it is the big aim of Viva con Agua to enable all the people in the world to use clean drinking water. Did you know that still there are more than 800 million humans who don't have the access to a proper water supply? You can help to change that.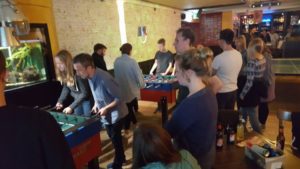 At the beginning of the evening, two people build a team of players with the help of a lot system and think of a creative group name. Afterwards the cup begins and up to 14 teams battle each other at the soccer table. Although it is a tournament, the atmosphere is as relaxed as if you are having a great evening with some friends. If it is not your turn to play a game, you can get yourself a beer at the bar and watch the other teams fighting to become the table football champion of the evening. The evening ends with an awards ceremony, where the first four places can win prices from alternative local bars, bistros or decoration shops.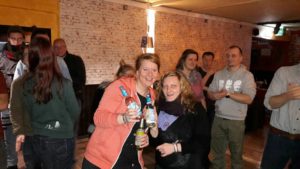 So, you want to hang out with cool people, have a beer, play some table soccer and besides you do all this for a good purpose? Check Viva con Agua Rostock on Facebook and take part in the next tournament!