*Source of featured picture.
(The oh so famous "Fährwelle" in Warnemünde)
Would surf-riding at the Baltic Sea seem like the most common things to do? You will be surprised. Even though the Baltic Sea does not provide as clean sets as you might find at the Atlantic Ocean, there are possibilities to surf-ride. Even here – very close to Rostock – in Warnemünde (or for today's purposes: Warnifornia).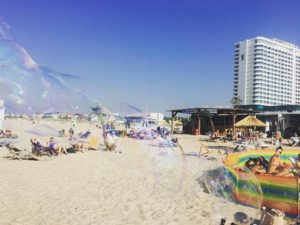 (Source)
At Warnemünde beach (beach access gate 11) there is a cute little container shack that is jacked with wooden boards. Right next to it, you will find loads and loads of surfboards and stand-up-paddle-boards. Besides surfboards you can also rend (as mentioned before) stand-up- paddle-boards or kite and windsurfing material. Back to being on topic though: You can also do – surprise! surprise! – surf-riding at the Warnemünde beach. How? Every two hours a ferry from Gedser in Denmark (you know, at the other side of the Baltic Sea) arrives at Warnemünde harbour. The waves that the bow and the rear of the ferry creates mostly wash nice and clean sets of swells to the beach that are easily ridable. It is recommendable to use a longboard (or at least 7ft) here because these waves aren't as big and carrying as you might know from other surf spots around the globe. It is beautiful for beginners though, and at some days – when the wind sweeps in a good direction to the beach – it would also be possible to surf bigger(ish) waves here. Check the surf regularly though! And also check the ferry timetables to know when the set is coming to the beach.
What I have learned in many surf-camps and from many surfers all over the world is that after using the beach and the ocean or sea for one of the most amazing sports in the world, you should clean it up afterwards. One of the most prevalent sayings is "take 3 for the sea", which basically means pick up three pieces of trash before leaving the beach. Just imagine if everyone would do that! And now enjoy the surf and stay safe.
Have a look on the following page to see how people from all over the world try to clean up our oceans and make others aware of the plastic issue in our oceans and the sea.
https://www.instagram.com/take3forthesea/
Safe travels, Katrin
PS: You can also collect some rubbish off the beach if you are not surfing 😉