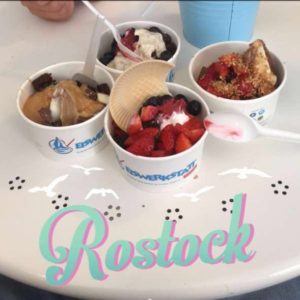 I had actually wanted to introduce the Eiswerkstatt to you. Before I started writing this blog post, I looked up on balticseabackpackertips.com if anyone of my fellow students had written about it already. Unfortunately for me – but fortunately for you – they did it here and here. I then thought: Should I really join the praises for the Eiswerkstatt and not come up with something new?
I decided, nontheless, that this delightful ice cream you can eat there deserves another post because if so many of us write about it, it'll become clear that it must be pretty extraordinary, right?!
The "Eiswerkstatt" is located in the Hopfenmarkt, right in the city centre of Rostock. They sell nostalgic GDR soft ice cream and frozen yoghurt.
In summer, it's always a little crowded, especially in the evenings, but I assure you it's worth the wait. The employees do their best to work fast and are still very friendly.
My favourite ice cream is their chocolate-banana topped with homemade brownies. It's so delicious, you definitely have to give it a try! They vary their range of ice cream everyday, but you can have a look on their Facebook page, where they post their ice cream flavours everyday. Unfortunately, they don't offer chocolate-banana every week – bad for me. But if they do, I am definitely there to get my cup of ice cream. So if you are also in the Eiswerkstatt on a day where there is  banana-chocolate ice cream, you will find me there. I am the girl grinning from ear-to-ear girl with the biggest ice cream cup around!