One of the things Mecklenburg-Western Pomerania (MV) is very well known for, is its bicycling friendly countryside. There is a tremendously vast net of bike paths throughout the hole state. Most of these bike paths are marvelously located and run through the loveliest sights of nature. In this blog, I want to recommend a specific bike path along the Baltic sea I recently discovered for myself.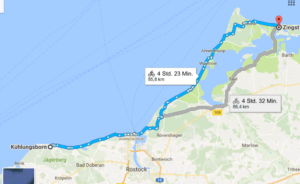 If you take a look at the map, you can see that the path is starting in Kühlungsborn and goes all the way through Nienhagen, Warnemünde, Graal-Müritz, Dierhagen, Prerow and finally ends in Zingst. All in all, that would be 85 km of pleasantly flat pike paths along the coast of the baltic sea. So, if you're up for a 10-hour round trip without breaks, go ahead; knock yourself out! 😉 However, if you're thinking of a little less challenging bike ride, try this:  Starting in Warnemünde, taking the ferry to Hohe Düne and from there riding about 30 km to Dierhagen (plus the way back). That's about what I did the other day with my boyfriend. We planned it as a day trip. We started off in Warnemünde around 11am and got back there around 5pm. Our total riding time added up to about 4 hours for almost 60 km. Since we are both well trained on the bike, I would say we are faster than the average person, so maybe schedule a little more time for your trip.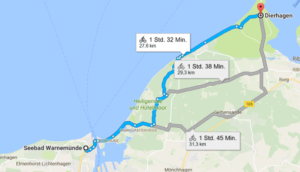 About the tour: It's a very agreeable mixture of paths through dunes, forests, villages or along the dike. The grounds vary from forest floor and sand soil to asphalt paths. In my opinion, the paths are excellently conditioned for biking (at least when the grounds are dry). Although you're permanently riding along the coast, you cannot see the water most of the time. But you can stop for a little beach break almost anywhere, since you only have to walk over the dunes to get to the beach. My favorite place during the tour was Dierhagen. It's a gorgeous little village which fascinated me with its natural beauty. There are all these wonderfully thatched houses in those green, thriving gardens. It was just a real joy to ride through that place and to capture its sight. Food and drinks you can either take with you and picnic at the beach or you stop by in Graal-Müritz or Dierhagen, where you will find plenty of options for nourishment. If you're taking the tour on a sunny holiday, be prepared to face a whole lot of other cyclists on your way, because it's not really a secret that this is such a nice way. But as long as you have a bell to ring them all out of your way, you're good to go. 😉 All in all, I had a really good time doing the tour and would recommend it to anyone who enjoys biking and discovering places in an active way.
Of course, you can start and end your trip at any of the named places above but please make sure you know where you're going and you have enough time to get back. If you wanna take a one-way trip, there are options to take the train or bus back from Kühlungsborn, Warnemünde, Graal-Müritz, Prerow and Zingst.
You would like to take the trip but you don't have a bike? Here are some places for bike rentals in Warnemünde:
http://warnemuender-fahrradverleih.de/
http://www.mietrad.de/verleihstation/warnemunde/
http://www.hotel-godewind.de/urlaub-warnemuende/fahrradverleih-warnemuende/
http://www.fahrradverleih-warnemuende.de/
I hope you're gonna have a great time biking along the Baltic sea. 😊