I do play Lacrosse in Rostock and I love it. Unfortunately it is a really uncommon sport in Germany – YET – but as a "Lacrosser" our mission is to grow the game. And that's exactly what we try in Rostock.
Since there is a Kieler Woche and the Travemünder Woche in Lübeck there has to be a Warnemünder Woche. Every summer for one week there is a lot of food and a lot of boats in Warnemünde. For some days the tiny senior's village with the flour-like sand becomes the hot spot of Mecklenburg Vorpommern.
BUT if you think, that there are just middle-aged people walking around in their socks with sandals combo, their checked short-sleeved shirts, who start drinking bear at 10am at their all-inclusive breakfast… well.. you`re actually right. BUT that's not all there is to see. As a highlight of the Warnemünder Woche –at least for me—they built this fancy, kinda big stadium, the Beach & Sport Arena, right next to the water. During the week different sports have tournaments in it. Lacrosse as well. Self-evidently.
We call it "Lax at the Beach". Eight women and eight men teams from all over Germany come to Warnemünde and fight for the desired first place.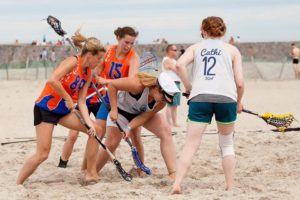 Foto: Matthias Marx / Warnemünder Woche
It is way different to normal field lacrosse (you'll find a good video about lacrosse here). The goal is tiny with no goalie inside. The field itself is just as big as half of a tennis court. And each team has just 4 active players on the field. Sounds easy!? Have you ever run in sand? It is unbelievably physically demanding. After 2 minutes on the field I always feel like as if my lungs are about to explode. But still. What's better than playing your favorite game right on one of your favorite spots in the world!?
Foto: Matthias Marx / Warnemünder Woche
This year it will be from July 1-2. You should stop by and see for yourself. What's better on a warm weekend day than watching people sweat and fight for a tiny ball made of hard rubber, while enjoying the sun with a cocktail in your hand. And you should definitely grab a stick and try for yourself. There are always people who are more than happy to show you how.
I know this sounds like as if RoLaX is paying me for some advertisement, but I'm deeply in love with this sport and try to make it as popular as it should be.