It can be pretty hard for parents to keep their children amused every single day during vacation. They get bored in a split second and want to do something new and fun. If you as a parent can't manage to organise a new activity as soon as you can, the whole day that should have been a great day, can become a quite unpleasant one. At worst, the children start screaming, you are getting super annoyed by that, and in the end nobody wants to do anything.
But there is a place near Rostock which gives a lot of variety for both children and grown-ups: the "Karls Erlebnis-Dorf Rövershagen", or "Karls Erdbeerhof". There you can find loads and loads of playground areas, always new attractions to visit, a whole bunch of different domestic animals, several places to sit down and have something to eat, and above all, the most delicious strawberrys you've ever tasted in your life! And the best thing is that it is a perfect place to be with your family even on rainy days.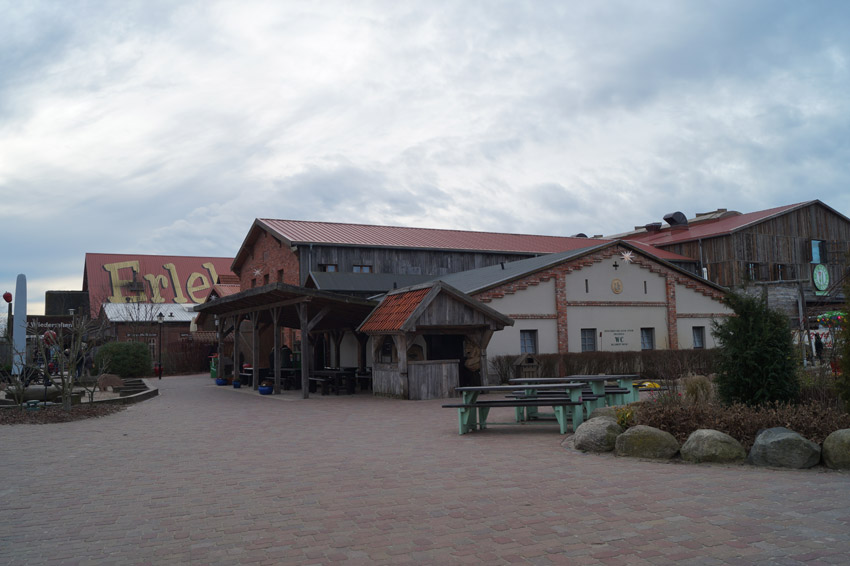 Originally, the area had been a farm with a little shop where the farmers sold there strawberries and some extra products made out of crops. Now the area is huge with lots of buildings including a gigantic famer's market selling not only seasonable harvesting products, but also decoration items, clothes, toys, plants, groceries, books, souvenirs, etc. But nevertheless, the marketing team did a great job in maintaining the old farm-charm. You really get the feeling that you're visiting an old farm with all the pots and tools standing around. They even call on people to donate old stuff they can find in their attics or basements and they don't need any more in order to re-use it for decoration.
Since I've been a child I really love the "Erdbeerhof" and like to explore the new things every time I visit this place. But there are two things that are particularly recommendable.
Brunch
I already had a lot of brunches in several restaurants and cafes, but they have never been as good as the brunch the "Erdbeerhof" offers. Every Sunday from 9 am to 1 pm you can enjoy a feast of German good traditional fare in a beautiful, rustic atmosphere. You can choose from a very rich and diverse buffet consisting of everything you could wish for: scrambled eggs and bacon, cereals, cakes, different sorts of bread and bread rolls, several sorts of housemade marmelade and jam, potatoes in every form you could imagine, a variety of delicious desserts, and so on …
From the ones who love meat to death to vegetarian – I'm pretty sure that everyone will go home with a belly full of happiness!
From my experience I can say that it is a good place to celebrate just everything. Christmas, birthdays, anniversaries, Eastern, enrolments, etc. They decorate the hall and the tables according to the occasion and offer typical food on different holidays. Especially for children it is a whole lot of fun because the hall is large enough for them running around and nobody seems to be annoyed by them. Besides, the buffet provides a lot of food that children just love like chicken nuggets, chips or pasta, so you don't have to deal with restive kids who don't want to eat all the "fancy" food for adults.
Sometimes a brunch can be pretty expensive and I must admit that the prices for this brunch may seem also pretty high, but I swear, the cost-benefit ratio is just invincible. An adult pays €25 which is a lot – but it includes a great all-you-can-eat buffet, an extraordinary atmosphere and even drinks like coffee, tea, milk, juice, cocoa and water which is not the norm. In most restaurants you only get either coffee/ tea and juices, or you have to pay extra for every single drink you get. But please make sure to reserve a table because there is no way to get a table just by showing up.
For further information on prices and reservation click here.

"Eiswelt"
For me, the "Eiswelt" is always a very special adventure. Every year a professional team of sculptors comes together and builds ice sculptures according to a specific theme like Alice in Wonderland some years ago, or Moby Dick this year.
I always get this mystical feeling when I walk through the showroom seeing all the art works made of ice and snow. Different coloured floodlights give the sculptures an impressive glowing effect – it's absolutely breathtaking.
Obviously it's freaking cold in the showroom, so make sure to visit the ice bar. Like everything else it's made of ice and they serve hot drinks, alcoholic as well as non-alcoholic, to give you a little bit of warmth from within the body. Because the exhibition is open 10 months a year including summer, you should remember to bring some warm clothes with you when it's hot outside.
A commutation ticket for adults costs €8,50; a ticket for children who are more than 90 cm tall and under the age of 13 costs €6,50 (don't ask me why the body height matters!). Children under  13 years and less than 90 cm tall can visit the exhibition for free. The commutation ticket has the advantage that after you've bought it you can visit the "Eiswelt" as often as you want all year around. So it's definitely worth the money.
For further information click here.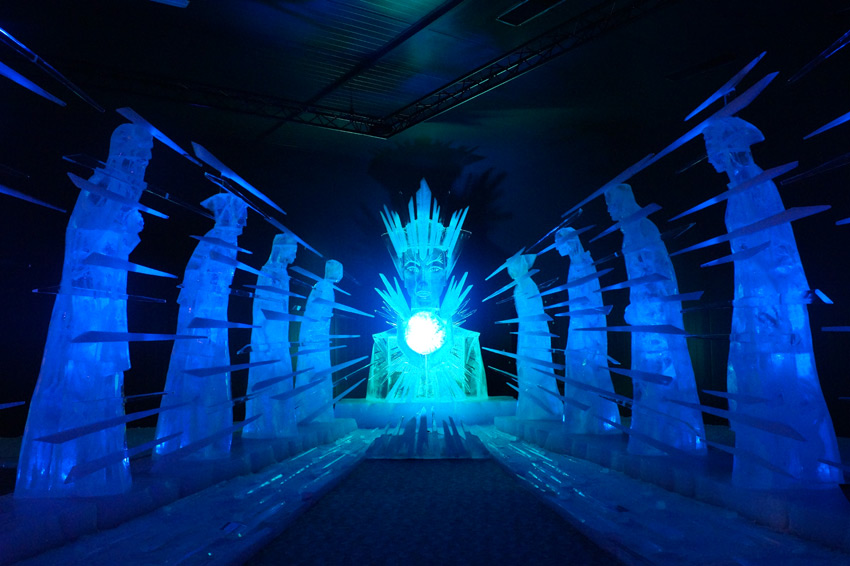 I hope that I could make you at least a little bit curious about this wonderful place where I spent a lot of time with my family during my childhood. And I still love to come back and have a wonderful day with my loved ones in such an unique and beautiful environment.