For those of you who actually live in Rostock, this will sound ridiculously unreal, but there really were actually some sunny days in the end of April.
After all these rainy days, I decided to do something outside. But what to do? I was tired of my bike and Warnemünde … again and again and again!? A friend of mine kept telling me about his great canoe adventures and all those special birds you can spot on some rivers and lakes in MV. So that's what I wanted to do. I called him up, picked him up with my small motorcycle and off we went to Krakow am See (you'll find some great picture of the city in crazycreative 's blog entry).
I was smart enough to bring an outdoor geek that had a canoeing map with rental places marked on it. Right on Rout 103 (which starts right in Rostock) is this nice fishing shop (Angel und Bootverleih) that also has some canoes – unfortunately no kayaks – for rent.
The canoes were clean and the staff was really helpful. It looks like a family business, where you are a name and not a number and that you are invited into a house and not a sterile store. Two hours of paddle-fun only cost 10€ per boat. Even my cheap little student conscience was more than happy about that price. Since it was out of season and on a weekday, we had the whole lake just to ourselves.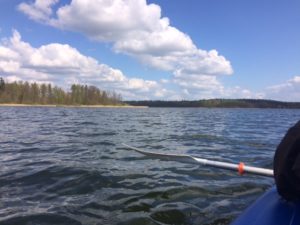 We were able to spot some great birds like Komoran (cormorants), Haubentaucher (great chested grebes) and Blässhühner (Eurasian coots) unfortunately no Eisvogel (kingfisher) though… next time! In the middle of the lake there is a small island where you can stop, take a walk and enjoy the fresh air of the woods.
After we brought back the canoes we went up an observation tower nearby. It was free and depending on where you stood, there were signs that mark how far some cities are away. You can look all over the lake, the island and as far as the earth's curvature lets you.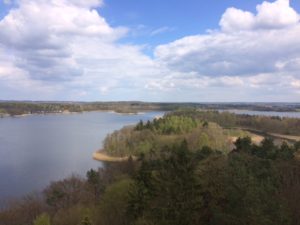 Krakow am See is just 65km away from Rostock (Südstadt for example) and easily to reach by car or bus (you can take the Rebus what will take 1 to 1 1/2 hours). For everyone who is tired of salty, freezing water up north (don't get me wrong, I love my Ostsee!), should make a trip there and see for themselves. Don't forget to bring your bathing suit for a nice swim and your binoculars to get a closer look at those beautiful birds.