Ever been to the Klostergarten (Nunnery garden)?
Particularly in the late hours of summertime, you can find a lot drama here. ;P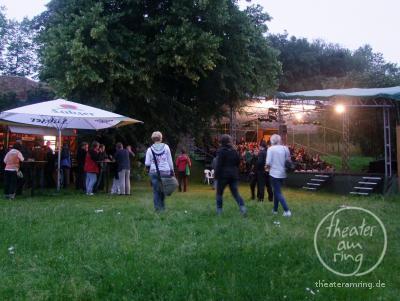 The "Compagnie de Comédie" (the 'Company of Comedy' theatre group) from Rostock builds up an open air stage right next to the Cloister in the city center. Although they call themselves the Company of Comedy they do, of course, present some tragedies too.
But who wants to see tragedies when the sun sinks into the trees, when the air is still pleasant and calorific, when the smell of wine (or other beverages) tickles your nose and palate? Come to this lovely inspiring place in Rostock, buy a ticket and a drink, and enjoy a vast range of plays. Comedy or tragedy, cabaret or concert – here are so many things to watch.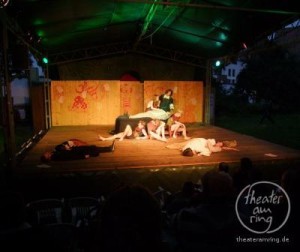 Not only the Compagnie uses this stage for their plays. Guests can perform here too. They include my theatre group, the "Theater am Ring". We enter the stage several times in the summer to perform directly under the shine of sparkling stars. Usually you can see some Shakespeare such as Much Ado About Nothing or A Midsummer Night's Dream. I highly doubt there can be a much better place than an open air stage to be drawn into the fairy world by Puck, the "shrewd and knavish sprite" and "that merry wanderer of the night"?
Although "all the world's a stage" there ain't enough residents here who have indicated enough interest in viewing a shakesperience in the mighty language of the brilliant bard. So this can be seen as an opportunity to experience some German Shakespeare.
But Shakespeare doesn't define our program. Lately we also performed a version of the Three Musketeers and a musical called Me and My Boy.
Escape the world that is a stage and the life that is a cabaret (old chum) just for a night and check out the schedule of the "Compagnie de Comédy" or the repertoire of the "Theater am Ring".