Do you need time to relax or just a break to get some coffee and
tasty cake?
Then Café Kuhstall is a good address for you. It´s located in Sagerheide, at the B110 near Sanitz and Rostock – amidst nowhere but surrounded by a lot of green and a pretty landscape which during the summer evokes a marvelous summer picture and invites you to go for a walk or a nice bike trip. Moreover a trip to Rostock and Warnemünde – our lovely east coast – isn't very far away, as well as to the lake in Groß Lüsewitz– fun for the whole family! For friends of nature there is also the national park Carbäktal.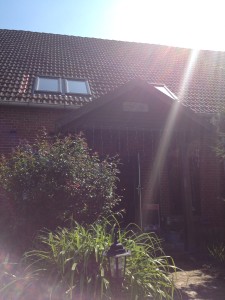 I discovered this place randomly together with my beloved friend Lizzy because on our journey we spontaneously had a craving for cake or ice or whatever … just something reaaally tasty, fully under the motto "a minute on the lips, a lifetime on our hips" (unfortunately! 😀 )!
The seductive charm of this Café directly won my heart. It is very plain and simple but smart. A good place to have a nice chat with friends and to leave one's cares behind, above all because it is very quiet there.
The Café is of peasant-style, very woody, but in combination with friendly colours of red and yellow and a lot of flowers it appears very welcoming.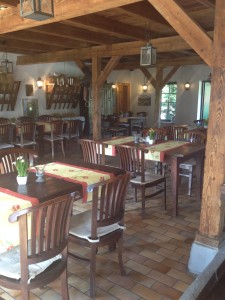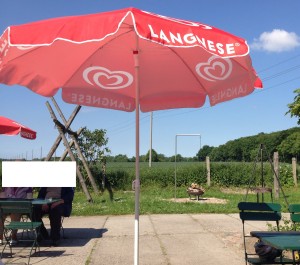 Lizzy and I had a yummi strawberry-ice cream bowl which I can definately recommend to you.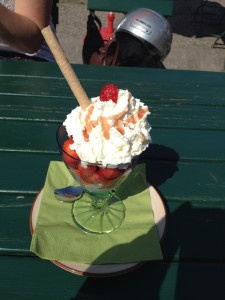 Besides offering food and drinks as a café and restaurant you have the chance to celebrate at the premises of Café Kuhstall – from small family parties up to larger communities about 120 persons. Have a look here for more information! Additionally, you can stay overnight if you like to, maybe just to tick off the item "sleep in a barn for one night" on your to-do-list! 🙂 Among us, the barn is furnished very modern and adjusted according to the customers, but nevertheless I think it would be worth one's while – as the idea of taking an icy time-out was for Lizzy and me.