"Any plans for the weekend?"
"Well, we could go dancing. Drinking a beer at the harbor would be quite nice, too."
"… so basically the same as every weekend."
Are you looking for something new, something exciting, something extraordinary? Here is my humble suggestion: take your friends and rent a canoe! There is nothing more relaxing than chatting with your buddies while you're paddling along the river or than having a picknick on the water.
Don't be afraid: it's easier to learn than you might think and very unlikely that you will keel over. After about 30 minutes you will stop drifting in a zigzag into the river bank and start controlling the canoe.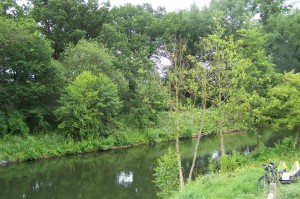 I can personally recommend you to borrow a canoe at the "Gutshaus Barkow" . One costs 12€ for half a day… and if you share it with two of your friends you only pay 4€ per person (which equates one beer in some pubs). The decision shouldn't be too difficult: drinking one beer in a pub or rather having a wonderful trip across the water?
Moreover the route is hemmed in by trees with singing birds. Well, you clearly can't compare a small river flowing through a forest in Mecklenburg-Vorpommern with the tropical rainforest and the Amazonas … but I wouldn't have been surprised if a giant venomous snake had attacked us or if naked women had shot arrows at us.
Here comes the all-clear signal for those of you who aren't able to survive without their mobile phone, iPad and other stuff: you can also rent a waterproof box to ensure that your gadgets won't get wet.
So … what are you still waiting for?
location:
Barkow is in the south of Mecklenburg-Vorpommern near Parchim and Lübz(by the way: Lübzer is a good beer).