Last summer, some friends from Austria came to visit me and wanted to explore Mecklenburg's beautiful countryside. As they had brought their children, a lengthy hiking or bike trip was quickly tossed to the salty sea air. Plus, I really don't have any sense of direction at all; I would probably have gotten us all lost in the woods 😉
I started asking around, and someone gave me the tip to check out the "Draisine".
"What's a draisine?" A draisine is a vehicle consisting of two bicycles and a bench. It doesn't, however, travel on roads, or cycle tracks, or water. As you can clearly see on the picture below, it moves on railway lines.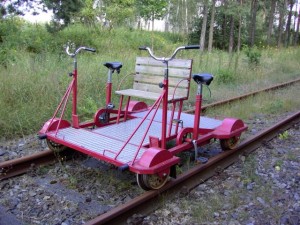 You can rent the draisines here. There are two different routes to choose from: Karow to Borkow (ca. 23km/14.3mi) and Waren to Schwinkendorf (ca. 13km/8mi)
We thought it sounded interesting, and as we did not want to burn ourselves out on the first try, we decided to try out the shorter route for starters. We called to make reservations and were on our way to Waren the next morning. 
When we first saw our "rides", we were a little skeptical, to say the least. We split up into two groups of 2 children plus 2 adults each — with the grown ups at the helm — and after a few minutes on the track we were going full steam ahead. But don't think we played chauffeur for the kids all day long! The draisines' seats are adjustable, and the 7-gear-shift makes pedalling pretty easy. The children got their fair share of exercise, and we adults could kick back, chitchat, and enjoy the landscape for a while.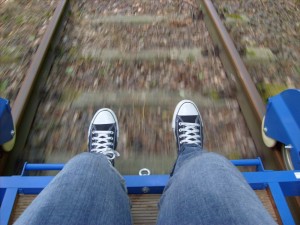 Both routes run through nature parks in the Mecklenburg Lake District, far off the beaten track. We passed a plethora of different land forms: wide fields, colourful meadows, blue lakes, quaint villages, flooded marshlands, and luscious green forests. We also came across some animals: the usual cows, sheep and horses, but also some deer, a flock of cranes and even a fish hawk. It was really a unique experience.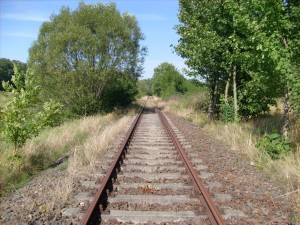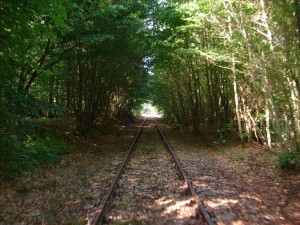 There are several resting spots along the trail where you can park your ride, and relax for a bit. We just lifted our vehicles off the track — they weren't as heavy as we'd thought; a bit like lifting a shopping trolley up the stairs — and enjoyed the sandwiches we had packed for lunch. If you don't want to have a picnic, there's a restaurant somewhere near the tracks. In any case you should bring enough water (or other beverages). You'll need the fluids, especially in hot weather. Unfortunately, there were no waste bins anywhere, so we had to collect our garbage in a plastic bag. Also don't forget sun screen! I underestimated the sun, so my skin was a nice, healthy, glowing shade of lobster-red when we got home. I didn't care much, though. The day was such a great, pleasantly strenuous, kiddy-friendly and aesthetically pleasing experience and so much fun for everyone that we decided to tackle the long route when they come back next time. Perhaps, I'll see you somewhere down the line 🙂