Hey folks, Caro here. I've got a great tip for you 🙂
Have you ever wondered what the little building on Glashäger (a popular German brand of mineral water)  bottles is?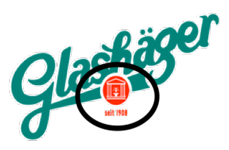 Well, I can help you with that!
As some of you may know, Glashäger mineral water is produced in Bad Doberan, a small (and beautiful) town nearby Rostock. As I went to school in Bad Doberan I've been lucky enough to visit the factory once or twice.
So, still wondering what that little house is?
It's the Quellental fountain temple!
The Quellental is an idyllic valley in my home"town" Hohenfelde, a small but charming village, and right there is where you can find the temple.
It is a classical pump house with a font inside. The water will look clean and appetising and, yes, you can certainly drink  the water as it comes out of the fountain – that's how clear and clean it is!
  If you want to visit Hohenfelde's (only) attraction, you can come by bike or car. There is a great bike path from Bad Doberan to Hohenfelde which gives you the chance to cycle along odourous canola fields and to experience the unique countryside of Mecklenburg-Vorpommern.
You are a bit lazy? I feel you on this one– I cycled this way so often in my life and it can be really steep at the beginning but once you are out of Bad Doberan you can enjoy the lovely region.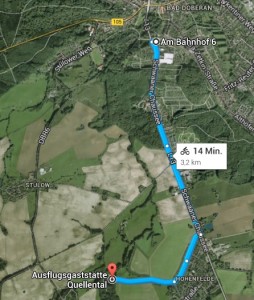 Starting in Bad Doberan nearby the train station (the easiest way is to take the train from Rostock – just a 25 minute ride)you follow the bike path in the direction of Hohenfelde – across the rail tracks on the left. 
 Once you arrived in Hohenfelde, you follow the first street on the right through a quiet neighbourhood, along fields and meadows.
 If you want to go by car, you can park on the parking space in front of the restaurant "Quellental" which is right at the beginning of the valley! The restaurant is really nice –  it has a spacious beer garden and delicious food! Curious? You can  check out the website here!
If you like nature and a good walk through meadows and forest,  thenthis is going to be a great trip for you! It's also  great for dogs as there is plenty of space for them to run about in!
So if you're drinking a bottle of Glashägers mineral water or any of their other beverages, you'll now recognize this local attraction, and perhaps consider a visit.
Cheers,
Caro