A few years ago I watched a documentary about Cologne, focusing mostly on the biggest bridge in the city (the Hohenzollernbrücke).  There is an odd kind of sentimental, bonding, romantic thing that has been happening and spreading throughout Germany (and further) for at least a decade. It has even reached Mecklenburg-Western Pomerania, although an old saying is that everything happens 100 years later in this state. ;P

Otto von Bismark (1815-1898) said something like — if the world comes to an end I will go to Mecklenburg where everything happens 100 years later.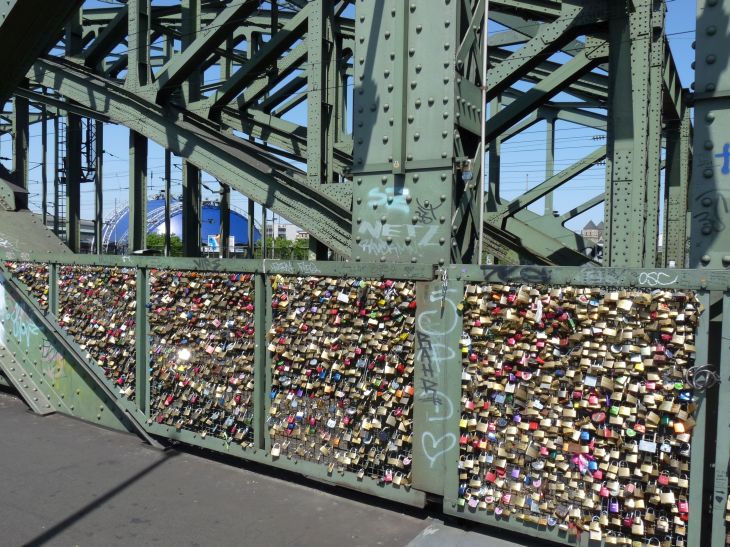 This (Italian) tradition is all about love. Lovers buy a padlock and engrave their initials or names into it. Some 'lovelocks' include anniversary dates, wedding dates or some other information. Couples attach their padlock to the bridge and throw the key into the river together, wishing their love to stay forever.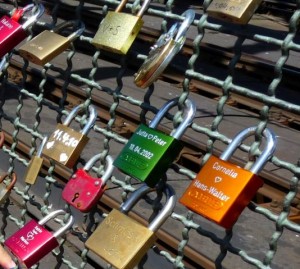 These days, I've even seen padlocks engraved with names and anniversary dates which were then added with another padlock showing a wedding date, which had been complemented by two smaller padlocks with the names and birthdates of their children. It is a very cute and romantic tradition.
You can find numerous lovelocks on the Warnow-bridge in Warnemünde, which is close to the train station there on the way to the beach. If you happen to be in love o wish to expand your bond to someone in a manner which is permanent, lasting, forged in steel, buy a padlock, engrave your name, lock it to the bridge, and throw the key into the Warnow. Although do this with care: it is actually not officially permittef to do this; however I doubt the police will lock you up and throw away the key if they do see you!
UPDATE:
Unfortunately the locks have been removed from the bridge. Due to the massiv extra weight and the need of repairing the bridge the locks have been removed to be placed somewhere else. The city hasn't decided yet where to put them, but I'll keep my eyes open and write a new entry when I find something.